2004 Australian Dressage Championships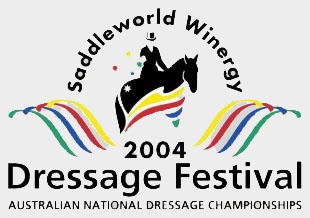 Although Ricky MacMillan and Crisp had won the Pacific League World Cup Qualifier at Equitana Australia earlier this year, they decided not to show in the Finals in Dusseldorf, Germany.
Instead, MacMillan, who is a dentist by profession, decided to defend her national title at the 2004 Australian Dressage Championships.
Aboard her steady mount Crisp, a Hanoverian gelding by Consul, MacMillan was the only consistent scorer in the Grand Prix Championship. Hanna won the Intermediaire II, Grand Prix and Grand Prix freestyle, closely followed by Mary Hanna on Limbo. Because of MacMillan's upper 60-lower 70% marks and her three number one placings, MacMillan became the undisputable winner of the 2004 Australian Dressage Championships.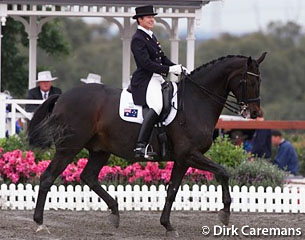 Also interesting to know is that the Advanced level classes were won by Mary Hanna aboard the Hanoverian licensed stallion Whisper (by Weltmeyer). Dr. Kerry Mack recently imported this black sire into Australia. In Europe the horse was both known as Weltstar (competitor at the German Bundeschampionate) and Whisper (winner of the Dutch Fourth Level Championship in 2003). Hanna scored 65.50% (2), and 70.40% (1) claiming victory with an overall total of 135.90. Hanna had to deal with serious competition from Rozz Tippett on Holme Grove Bolero.
Results
Intermediaire II
1. Ricky MacMillan - Crisp - 68.59%
2. Glennis Barrey - Gaucho II - 66.29%
3. Karin Davis - Mighty Heights - 60.98%
4. Lesley Anne Taylor - HP Finagin - 60.59%
5. Leanne Williams - Avoca Black Saint - 60.05%
Grand Prix
1. Ricky MacMillan - Crisp- 68.29%
2. Mary Hanna - Limbo - 66.75%
3. Heath Ryan - Greenoaks Dundee - 65.21%
4. Ann Serrao - Centaur - 63.04%
5. Glennis Barrey - Gaucho II - 62.75 %
Grand Prix Special (Consolation Finals)
1. Kelly Layne - Amoucheur - 63.80%
2. Glennis Barrey - Gaucho II - 63.20%
3. Margo Boldt - Konnica Park's Don Georgi - 61.40%
4. Pauline Carnovale - Luccini Carnovale - 57.04%
5. Kate Boyes - Octavius of Neika - 56.68%
Grand Prix Kur to Music
1. Ricky MacMillan - Crisp - 71.71 %
2. Mary Hanna - Limbo - 70.91 %
3. Heath Ryan - Greenoaks Dundee - 69.29 %
4. Ann Serrao - Centaur - 66.76 %
5. Karin Davis - Mighty Heights - 64.74 %
FEI Young Horse Test - 4-year olds
1. Fiona Mc Naught - Larapinta Ferringka - 14.74 2
2. Sharyn McCombe - Fairbanks Yarramee - 14.60
3. Mary Hanna - Tango V - 14.02
FEI Young Horse Test - 5-year olds
1. Danielle Vassella - Summerzar Al Tempest - 14.12
2. Caroline Coleby - William II - 13.22
3. Rebecca Provan - Northern Vesper - 13.22
FEI Young Horse Test - 6-year olds
1. Anjanette Harten - Don Ricardo - 14.68
2. Rebecca Provan - Llanvar Voltaire - 13.82
3. Judy Gronn - Belcam Carob - 12.56
Complete Scores Available at the Victoria Equestrian Federation's Website 
A Complete Report will soon appear in The Horse Magazine
Image of Ricky MacMillan copyrighted: Dirk Caremans