2004 World Cup Finals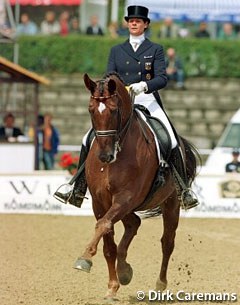 World Cup organizer Joep Bartels announced that Ulla Salzgeber will not receive a wild card for the 2004 World Cup Finals. Because of her two-month suspension by the German Equestrian Federation
, Salzgeber has been unable to ride the qualifiers for the 2004 World Cup Finals. The only way for her to participate in the Finals was by receiving a wild card, which she has been denied.
Ulla Salzgeber has won the World Cup Finals of 2001 and 2002, but had to return her 2003 title because her horse Rusty had been positive to doping. Eighteen competitors are entitled to compete at the 2004 World Cup Finals, of which three will be entered through a wild card system.
Heike Kemmer and her Hanoverian Bonaparte (by Bon Bonaparte) are currently leading in the Western European League of the World Cup. In this league, two more competitions are to be ridden, those of Neumunster and 's Hertogenbosch. Canadian Belinda Trussell has already qualified herself for the Finals with horse Royan II by winning the Canadian League Finals in Toronto.
Image copyrighted: Dirk Caremans
Rusty Doping News