German Dressage News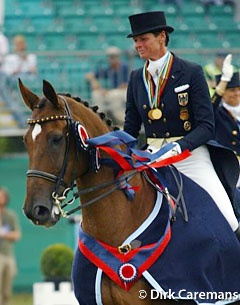 The disciplinary commission of the German Equestrian Federation has made its verdict in the doping case concerning Ulla Salzgeber's Rusty. Because the Latvian warmblood Rusty
tested positive on the hormone testosterone at the 2003 World Cup Finals, the Germany Equestrian Federation has convicted Salzgeber to pay a fee of 2,000 € and to cover all legal costs in this case. Furthermore, Salzgeber will be suspended from competition for two months.
This sentence of the FN's disciplinary commission is relatively light, so that Salzgeber's hope to compete at the 2004 Olympic Games has not been dashed. Despite her suspension, she will still have plenty of opportunities to qualify for the Games.
Salzgeber has been given one week time to go into appeal.
Image copyrighted: Dirk Caremans
Rusty Doping News