2003 European Dressage Championships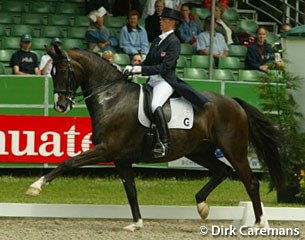 Although selected as the anchor rider for the Dutch dressage team at the 2003 European Dressage Championships, Anky van Grunsven announced today that she won't be competing her Gestion Salinero at Hickstead for the European Championships.
Anky's Hanoverian gelding Gestion Salinero (by Salieri) has been lightly injured. The injury seemed to minor, but as the horse would only be at 75% of his capabilities, Anky did not want to take any risk. She considered it best not to ride Salinero at the European Championships and has, therefore, withdrawn as a participant.
Anky's place will be covered by her student and reserve team member Edward Gal. He's bringing along Gestion Lingh, a Dutch warmblood by Flemmingh. The Dutch team will now include Ellen Bontje (Gestion Silvano N), Antoinette Falandt (Jarwo), Arjen Teeuwissen (Gestion Goliath T) and Edward Gal.
Chef d'equipe Jan Peeters commented that, "it is a set back, but we still have medal chances. The other team members will be even more focussed to strive for a medal."
Image copyrighted: Dirk Caremans
Back to the 2003 EDC Index