2003 World Championships for Young Dressage Horses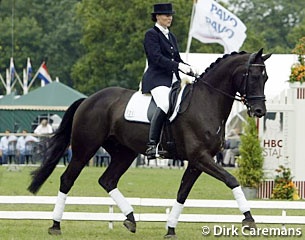 With the World Championships for young dressage horses approaching fast, the Dutch Equestrian Federation and KWPN society are gearing up to form a team that will represent the Dutch warmblood breed in Verden, Germany.
Bert Rutten, Grand Prix dressage rider and member of the selection committee, commented on the five-year olds that were shown at the selection trials and have qualified for the short list.
Hilltop Rousseau (Ferro x Roemer) - Nicolette van Lierop
Pavo cup winner, "he's a medal hopeful in Verden. The stallion has a very nice conformation and three good basic gaits. He has a lot of radiance, even though he could be presented more spectacularly."
Riant (Jazz x Julio Mariner xx) - Anke ter Beek
Rohdium (Ferro x Ramiro) - Hans Peter Minderhoud
Magic Rodrigo (Indorado x Stuyvesant xx ) - Edward Gal
Licensed AES stallion. "He has been developing in a positive way lately."
XXL (Krack C x Balzflug) - Edward Gal
"Horse with a spectacular front leg usage"
Provisional reserve combination: Rambo (Gribaldi x Amor) - Hans Peter Minderhoud
"The stallion is quickly distracted and can become disobedient."
The final team of 6-year old horses will be determined after a training session on July 18, 2003. Currently short listed are:
Pays Bas (Cabochon x Zeoliet) - Christa Laarakkers
Pedro (Krack C x Damiro) - Christa Laarakkers
Reduson Patser (Jazz x Ariban) - Madeleine Vrees
Pavo cup Winner. "Horse with spectacular movements but he should be more easy to ride"
Painted Black (Gribaldi x Ferro) - Hans Peter Minderhoud
"The stallion has a beautiful conformation and moves very light-feetedly
Pasternak (Gribaldi x Cocktail) - Coby van Baalen
Paso Doble (Krack C x Orlof) - S. Van Nieuwkoop
Only mare qualified for Verden in the Dutch team. Nice trot, mediocre canter.
Paddox (Ferro x Darwin) - Marijke Folmer
Stallion is developing in a nice way.
Bert Rutten explained that "it's not only the quality that will be judged in Verden, but also their ability to run good tests. To finish high in the ranking, you have to ride three faultless tests. It's not just a materiale class."
Source: Hoefslag
Related Link
2003 World Championships for Young Dressage Horses' Index