2003 European Dressage Championships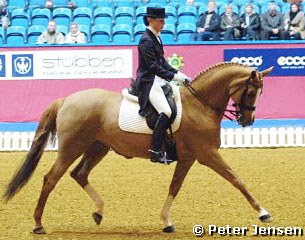 Following a selection trial held at Addington Manor Premier League which saw British riders based in Germany, Fiona Bigwood and Sandy Phillips returning to England for the show where Fiona also showed young horses.
Eleven riders have been long-listed for the British team at the European Dressage Championships at Hickstead 13th-17th August.
They are: Nicky Barrett, Wilfried Bechtolsheimer, Fiona Bigwood (pictured on Habana), Richard Davison, Emile Faurie, Carl Hester, Emma Hindle, Nicola McGivern, Sandy Phillips, Laura Richardson and Peter Storr.
The squad will be reduced to a short list at the end of June while the final team, who will carry Britain's hopes of qualification for the Athens Olympics, will be announced on 10 July, 2003.
Text by Diane Williams
Image copyrighted: Peter Jensen
Back to the 2003 EDC Index