2003 Dutch Indoor Dressage Championships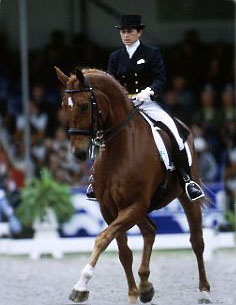 The finals of the KNHS Dutch Indoor Dressage Championships in equestrian facility De Gouberg in Roosendaal, The Netherlands, produced Roger Schulkens, Jeanette Haazen, Theo Hanzon and Patricia Callaghan as indoor champions 2003.
The Fourth level Test 1 (ZZ-licht) Championship title went to the Belgian located but Dutch native Roger Schulkens aboard his chestnut Monarch. Scoring top sixty percentage scores, Schulkens dealt with little competition in his class. The Fourth Level Test 4 (ZZ-zwaar) Ttle went to another Belgian located, yet Dutch native, Jeanette Haazen. With her Prix St Georges trained and shown Rockefeller van de Zelm, Haazen could have taken the trophy even if she had an off-day. Her Rockefeller van de Zelm is up for more "rivalry" so performing in this championships' class was a piece of cake for the Belgian warmblood stallion by Rosenkavalier.
At Prix St Georges leve, the 2003 Indoor Champion's title went to former young rider Theo Hanzon aboard Idar (by Darwin). Twenty-two-year old Hanzon beat his long time rival, the 22-year old Joyce Heutinck who had saddled her number one mare Berkel I Dancer. There was a minimal score difference between the two former young riders, but Hanzon and Idar just showed that extra bit and became the champions.
At Grand Prix level, the Dutch dressage elite did not show up for the Indoor Championships, so the title went to B-team rider Patricia Callaghan aboard Joy who put down three strong rides (pictured). Tineke Bartels brought her good-old Luxaflex with her once again and finished second, while stable Hexagon's leading rider Leunis van Lieren placed third with Hexagon's Louisville.
Image copyrighted: Arnd Bronkhorst
Results
ZZ-licht - Fourth Level Test 1
1. Roger Schulkens – Monarch 204,17 (69,27 + 67,85 + 67,05) 
2. Judith Scholte – On Top 198,08 (64,48 + 64,84 + 68,76) 
3. Mischa Koot – Osteria 197,72 (63,75 + 66,45 + 67,52)
ZZ-zwaar - Fourth Level Test 4
1.Jeanette Haazen – Rockefeller 210,16 (70,95 + 72,26 + 66,95 ) 
2.Loes Corsel – Merudin 202,68 (64,19 + 69,25 + 69,24) 
3.Petra Filion – Les Burga 197,98 (66,19 + 64,84 + 66,95)
Prix St Georges
1.Theo Hanzon – Idar 207,68 (68,50 + 69,18 + 70,00) 
2.Joyce Heuitink – Berkel I Dancer 207,19 (69,92 + 69,52 + 67,75) 
3.Alex van Silfhout – Luxform's Nimbly 202,89 (66,75 + 70,72 + 65,42)
Grand Prix
1.Patricia Callaghan – Joy 135,68 (64,86 + 70,82) 
2.Tineke Bartels – Luxaflex 131,47 (62,57 + 68,90) 
3.Leunis van Lieren – Hexagon's Louisville 131,40 (64,72 + 66,68)  
Scores courtesy: KNHS