2003 World Cup Finals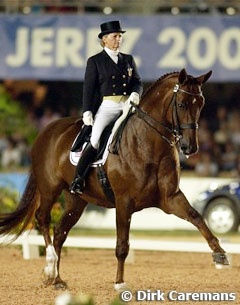 USET Team Silver Medallist, Debbie McDonald and Peggy Thomas's Brentina are the wild card entry for the 2003 World Cup Dressage Final in Göteborg, Sweden, representing the USA.
McDonald and Brentina charmed the press at the 2003 World Equestrian Games, when asked where she trained in Europe. "We're from Sun Valley, Idaho, said McDonald, as she sat with Nadine Cappellman, and Ulla Salzgeber in the press conference. "It's a ski resort!"
As a result of the US Team Medal at the 2002 World Equestrian Games, the US is allowed to send 3 members for this prestigious annual event. The third will be determined after the National Freestyle Championships to be held in Miami later this month.
The World Cup Dressage Final will be held from 27 to 30 March 2003 in Göteborg (SWE). It is the 6th time that the Final is organized in Göteborg. Last time was in 1998 and the Final was won by a home rider Louise Nathhorst on Walk on Top.
Seven competitions are scheduled during the four days of the Göteborg Horse Show, including the FEI World Cup Dressage Final, a qualifier of the FEI World Cup Jumping and one of the FEI World Cup Driving.
Olympic champion Anky van Grunsven, leader of the current World Cup standings of the Western European League after the San Patrignano qualifier, will not be able to participate in the Final further to an accident which occurred on 17 January at her home stables. She fell off her horse Gestion Joker during a training session and broke her upper leg. She will not be able to compete for the next two or three months.
The number of participants in the Final will increase from 14 to 18 riders and for the first time the Kür will be split into a big final and a small final. The best 12 riders from the Grand Prix will participate in the big Final. The Grand Prix will be a qualifying competition only and will not count towards the final result. The Kür will decide on the World Cup Champion's title. Also for the first time, there will be seven judges, as in main championships.
Situated in the centre of Göteborg, the Scandinavium arena has a total capacity of 12.000 spectators. The Göteborg Horse Show is hosted for the 27th time in the Scandinavium and has an audience of about 60.000 – 70.000 spectators every year. It is held in conjunction with the EuroHorse Fair, which takes place just next to the arena in the Swedish Exhibition Centre.
Images copyrighted: Dirk Caremans