Oldenburg Breeding News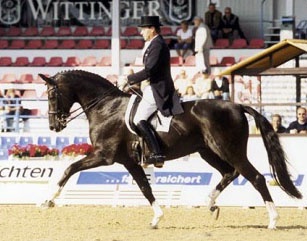 The rumour that Oldenburg's most successful breeding stallion De Niro is sold to the United States, is untrue. It was claimed that due to the oversaturation of the German market with De Niro blood -- De Niro is the most popular stallion in Germany
and already has a large list of approved sons -- that the owners Mr Wahler of Klosterhof Medingen and Mr Bockmann from Gestut Bockmann, decided to sell the stallion.
Klosterhof Medingen's marketing chef Sylvia Harms stated that De Niro has not been sold, nor is for sale. "This morning I saw De Niro in Training in our arena and I think Mr. Wahler and Mr. Böckmann don't whant to sell him at the moment. Untill today De Niro is still one of our best and most used stallions so there is no reason to sell him," Harms said.
Hardly any stallion has had a greater lasting influence on contemporary German dressage sport and the breeding of dressage horses than that of the recently deceased Donnerhall. The liver chestnut Oldenburg stallion was a German champion and came third in the world freestyle championships. He was also team world champion in The Hague in the Netherlands. He moreover came individual third and team champion at the 1997 European dressage championships in Verden. In 1998 he became team world champion in Rome.
The dam Alicante, herself a successful dressage horse, earlier produced the full De Niro brother Dimension, who has a fine reputation as a sire in Westphalia. The dam's sire Akzent II was regarded as one of the best producers of rideability in modern day horse breeding. He has frequently made the news by his presentation of sensational stallion sons and expensive auction horses. He is also the dam's sire of stallions, apart from De Niro and Dimension, the esteemed sires Gralshueter, Carismo, Welton, Trend, Pik Labionics, World Man G, Grannus As and Gracieux. The pedigree is strengthened by the performance thoroughbred Wiesenbaum xx, who established his position through his sons Wiesengrund, Wittelsbach and the legendary sire Ferdinand. The dam line is identical in its origins to that of the stallion Dewett (Zweibruecken state stallion), Gomez (Dillerburg state stallion), Laurion (private stallion Oldenburg), Wapiti (Celle state stallion) and Wogenbrecher (private stallions Westphalia). This dynasty is also represented by the international showjumper Landdame (Franke Sloothaak) who is Laurion's full sister.
De Niro was one of the best jumping stallions at the Verden stallion parade in 1995 and ranked among the top at the 1996 stallion performance test in Adelheidsdorf. There he received the highest score for rideability and became overall second in the performance class I. De Niro has meanwhile won dressage competitions at elementary and intermediate levels and qualified for the national dressage championships of 1998 and 1999. At the tender age of seven, he already won Prix St George, Intermediaire I and II as well as Grand Prix. In 2000 he was declared the best new generation Grand Prix dressage horse. IN 2001 he has continued with many wins in Grand Prix and Grand Prix Specials.
De Niro was awarded the I-a main premium by the Oldenburg Association in 1997 as a result of his overwhelming breeding value rating. By 8 years of age he has sired 19 licensed sons. Two were runners up in their performance test, Depardieu (Oldenburg 2000) and De Facto, Verden 2001. De Facto was then sold at auction for the peak price of 279,985 Euro. De Niro progeny dominate the foal markets in Medingen, Vechta and Verden as evidenced by his son Day and Night, who sold for a sum of DM 140,000 in 2000 at Medingen. His sons are very popular at the approvals, demonstrated by Der Lord, who went into the services of the Lower Saxon state stud of Celle and Divino de L, who is covering in Baden-Wuerttemberg as well as Depardieu (runner-up of the 2000 approval in Oldenburg) and Degas. Dionysos in Brandenburg and Diego Velasquez as well as Dante Alighieri in Austria. De Niro's daughter Dei Weingard became I-b diamond ring mare at the 2000 Oldenburg Elite Mare Show in Rastede. He furthermore presented the champion mare and two additional mares at the diamond ring in 2001. A total of 10 mares was awarded the state premium in Oldenburg during the past year an amazing achievement. The quality of the De Niro progeny is however particularly impressive under the saddle. In 2001 De Niro has already managed to present a federal vice-champion, a state champion and several conformation show winners.
In 2001 progeny by De Niro were the toast of many auctions. At Klosterhof-Medingen Elite Foal auction he sired the top five priced foals each selling between DM 40.000 and DM 52.000. He also sired three of the top five riding horses for the sum of DM 150.000, DM 280.000 and DM 450.000 respectively. At Vechta he sired the second and third highest priced Elite foal at DM 38.000 and DM 65.000 as well as the second highest priced Elite riding horse Daily Hero for DM 200.000. Six De Niro progeny alone fetched record sales prices of from Euro 51,129 to Euro 230,081 at the Vechta and Medingen autumn auctions.
Related Link
Dolf-Dietram Keller wins 2001 German "Profi" Championships