2002 Dutch Dressage Championships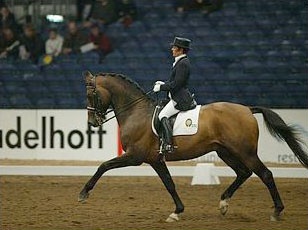 At the 2002 Dutch Dressage Championships in Park Brakkestijn in Nijmeghen, The Netherlands, Jeannette Haazen won the overall KNHS ZZ-Licht Championship.
Park Brakkestijn was not only the scene for the Grand Prix Senior Riders Championships, but also the setting for many national finals at the highest levels. Throughout the year, riders had to compete in several qualifiers in the country in order to be selected for the finals which were held in Nijmegen. The ZZ-licht level (similar to U.S. Fourth level) was one of those divisions in which an ultimate Dutch Champion had to be appointed
In Nijmeghen, Dutch Jeannette Haazen reigned supreme aboard the Westfalian gelding Rockefeller van de Zelm. Haazen won the first test with a score of 70.95% and the put down a similar performance the next day, but then scoring 70.94%. Marieke Voorneveld finished second overall aboard Legend, while Christa Laarakkers and most wanted placed third.
Haazen, who has been living in Neeroeteren, Belgium, for a several years now, purchased Rockefeller van de Zelm from the Zelmhoeve, owned by Geerts family in Mol, Belgium, in 2000. In 1999, Rockefeller competed in the finals of the World Championships for Young Dressage Horses in Arnhem, The Netherlands, under Belgian Stefan van Ingelgem. Rockefeller is by Rosenkavalier.
Image copyrighted: Dirk Caremans - no reproduction
Related Links
Scores 2002 Dutch Dressage Championships
1999 World Championships for Young Dressage Horses
Sentio, Rockefeller and Quavarotti win 1999 Belgian Young Dressage Horse Circuit