2001 World Championships for Young Dressage Horses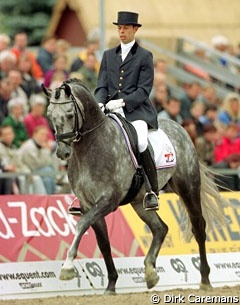 The first qualifying round for the World Championship of the five-years-old dressage horses was well received by the audience. Winner of this round with a score of 8,4 points was the Oldenburg stallion Rubels, who was ridden by the Dutch Hans Peter Minderhoud.
With the deficit of just one tenth of a point "local hero" Holga Finken with the Hanoverian Wildest Dream and Seth Boschmann from the Netherlands with Obrian came second.
Holga Finken also came fourth with the big moving Wanesco by Weltmeyer. Sandra Deker with Dream a little Dream and Lisa Wilcox from the U.S.A. with the Oldenburg stallion Dany Wilde reached both the fifth place.
Image copyrighted: Dirk Caremans - No reproduction without payment
Source: Escon Marketing