2001 CDIO Aachen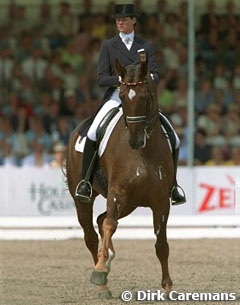 It is clear that Ulla Salzgeber (Bad Wörishofen) has set her mind on the European dressage title: with 1912 points the Olympic team gold medallist won the "Coastriders-Grand-Prix" with Rusty
ahead of team colleagues Alexandra Simons-de Ridder (Aachen/1840) and Isabell Werth (Rheinberg/1841) with Antony FRH.
"If she had not had the mistake in the one tempis the result would have been even higher," said team coach Holger Schmezer. "No doubt, Ulla is the favourite in Aachen and will be at the European Championships in Verden for the individual title."
It was good to see Chacomo perform again, who only competed for the second time this year and improved extensively. Alexandra-Simons is not a member of the team here in Aachen, but she gained more points than the other three team members.
Nadine Capellmann, who came fifth with 1774 points behind Heike Kemmer (Isernhagen/1798) was unlucky. Her horse Farbenfroh started off strong, but got very excited from the music which was played during the prize giving in the jumping stadium and Nadine had great trouble to finish the last part of the test.
"It was a pity as Farbenfroh started of so well, but one should not take it to serious," analysed Schmezer.
The Dressage Nations Cup was as expected won by the German team with 5524 points ahead of the Dutch with 5156 and Spain (5151).
Image Copyrighted: Mary Phelps - no reproduction without written permission/payment