French Dressage News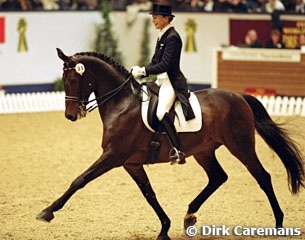 The future of French Dressage has never looked more uncertain as nowadays. Two of its most important dressage riders are selling their horses.
Most striking sale is of course that of the horses of French/Brasilian Mariette Almasy, who is going through a rough period. Not only did her husband, World Cup Finals organizer Jorge Ferreira Rocha, cancel the 2001 Finals in Sao Paulo, Brasil, but he is also divorcing her. Mariette Almasy already had to sell her Quixote Pavarotti (Trakehner by Prisio) and is now, due to a lack of funds, forced to sell her 1998 World Equestrian Games mount Quixote Priboy, an 11-year-old Russian Trakehner stallion by Blesk.
The French Olympic team member Serge Cornut was also asked to sell the gelding Vallon d'Artigny. Owner Nelly Pau and Cornut agreed that the gelding was to be sold after the Olympics of Sydney anyway, even if Cornut got selected as French team member.
Source: Cheval News