2000 CDI Arnheim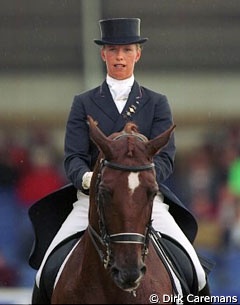 Champion Gelderland, formerly Champion Arnheim, is one of the few shows during the season in which a nation competition's is attached to the Grand Prix test.
Germany already announced that it wouldn't send out a team, which was heavily criticized by the Dutch press and riders, but still  very understandable as the Germans just dealt with their national Dressage Championships in Balve and had the important Olympic qualifying CDI show coming up in Norten-Hardenberg and Aachen. 
Holland presented a possible variant of its 2000 Olympic team. The team, not yet officially announced but by insiders generally expected to be like this, consisted of Anky van Grunsven, Coby van Baalen, Arjen Teeuwissen and supplementary riders Imke Bartels and Barbara Koot. Dutch chef d'equipe Jurgen Koschel has not yet decided which rider to take as fourth. With Teeuwissen and Van Baalen riding their Olympic horses it was only logical that the gold team medal in Arnheim would go to Holland. Furthermore, 'name' and 'fame' does much, even when you present a second horse.
Anky van Grunsven saddled one of her many spare Grand Prix horses, this time it was Gestion Idool, a KWPN Maykel son, who has grown a lot the last two years but which will never equal the potential of her Bonfire. The Grand Prix was dominantly won by Coby van Baalen with 75.68% leaving Arjen Teeuwissen more than a 100 points behind her. Third placed was Anky van Grunsven on Gestion Idool. The liver chestnut gelding shows his exercises correctly but he's not as flashy and as strong behind as a good  dressage horse should be.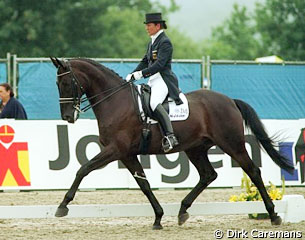 Number four Karin Rehbein rode Flambo, a Kaiserstern xx son who has a terrific passage but a mediocre piaffe. Nevertheless, the pair showed some nice quality traversal movements and therefore scored 70.12%. Holland won the gold team medal, America  the silver and Denmark the bronze. Denmark presented its B-team in Arnhem. It had to do  without star riders Lars Petersen and Lone Jorgenssen, the two best Danish riders.
There was no confrontation between Teeuwissen and Van Baalen in Arnhem as the latter preferred  to ride the Special. It would turn out to be a good choice as the rider from Brakel, The Netherlands, won the test with 77.53%. Her test was very correct but the trot half passes remained without good suspension and the rider's aids are too obvious in the piaffe and passage.
Best American rider in the special was Sue Blinks with Flam Flam. The dark bay Hanoverian owned by Fritz Kundrun is a very  talented Grand Prix horse but he's too carefully ridden in order to really score.
A very distinctive performance came from the Australian Kristy Oatley-Nist on Rosemount Wallstreet. Oatley-Nist, who is trained by Karin Rehbein, has a super horse in Wallstreet, a Weltmeyer son discovered by the Columbian Dr Cesar Parra.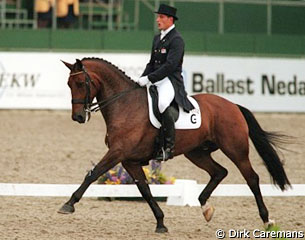 The freestyle was easily won by Teeuwissen and Goliath T. The student of van Grunsven rode his new freestyle composed by Ail Schoneberg. The music is still based on the sound of the Spanish castanets and, although the whole composition is impressive, the castanets have become a cliché in kurs. Teeuwissen received a monster score of 80.61%.
Second place went to Swiss Daniel Ramseier on Parvenue Royal. The combination is very promising and will definitely grow in the future. 
Images copyrighted Dirk Caremans - No reproduction without permission/payment
Results - 2000 CDI Arnheim