2000 World Championships for Young Dressage Horses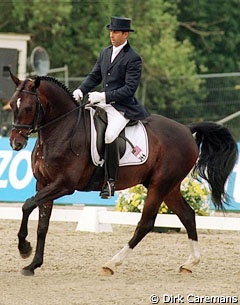 The American Horse Shows Association announced today that three of America's best young dressage horses will be competing in the FEI World Breeding Championship Dressage for Young Horses in Arnhem, The Netherlands from June 21-25,2000.
This is a first step in the work of the AHSA Dressage Committee to develop a program, scheduled to roll out in 2001. The purpose is to select and send the country's best five and six-year-old dressage horses to the championship each year. 
This year, two five year olds and one six year old will compete. In the five-year-olddivisionWinwood, a Hanoverian by Wonderful x Amarillo, will be ridden by owner Heather Benderof Lake View Terrace, CA and New Tango, a five-year-old Dutch Warmblood, by Contango, owned by Tara Stegen, Wellington, FL, shown here riding,will be ridden by Robert Dover. In the six-year-old division, Scott Hassler will ride Festrausch, a Westfalen stallion by Florestan x Carprilli, owned by Hilltop Farm. 
 "The Young Horse Championship is an opportunity for every nation to show its best young horses. Not only do we have quality horses at home but also they have been trained to a high standard. I think we have some outstanding individuals this year," said Hilda Gurney, AHSA Dressage Committee member.