1999 P.S.I. Auction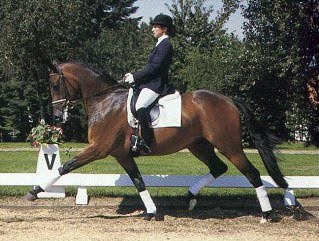 On 28th November 1999 Performance Sales International will present its 20th Elite Auction of German Dressage and Show Jumping talents. Known for the outstanding quality of the collection, for its excessively high prices
and for the sublime organisation of the presentation and sale of future champions, the PSI team is proud to serve a group of 55 top sporters for their last sale of the millennium.
Ullrich Kasselmann and Dr Ulf Moller selected 25 dressage horses with high potential that already produced an incredible list of achievements. In the 1999 collection the Westphalian gelding Positino B is included. Sired by Parademarsch I out of a Graf Spee dam, Positano B distinguished himself by placing 9th at the World Championships for Young Dressage Horses in Arnhem.
The highest price ever paid for a PSI auction horse was 2,800,000 Deutsch Marks. For that amount the approved stallion Lord Sinclair came into the ownership of the Hong Kong multinational Ozark.
Official website: www.psi-sporthorses.de