1999 Bundeschampionate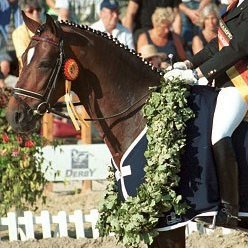 With several ten thousands of visitors over four days the annual Bundeschampionate, or German Young Horse Championships, are on of the most visited equestrian events in Germany and the world. Always taking place the first weekend of September, The National Equestrian Centre in Warendorf functions as host of this large event. The Championships are divided into four disciplines: dressage, show jumping, eventing and carriage driving. All classes of each discipline are formed according to the horses' age.
The dressage discipline makes a difference between three and four year old horses and five and six year old horses. The three and four year olds enter the so called "Riding Horse Test", or Reitpferdeprufung. During the championships all dressage tests are split up in two qualifiers and a consolation test or finals test, if the horse has qualified. For the three and four year olds, the finals consist of a test in which two different riders ride all selected horses to test them on their rideability, potential and quality.
The Riding Horse Classes separate stallions from mares and geldings to give each gender a fair judging. This is not done with the 5 and 6 year old horses in which feminine and masculine compete against each other. The five and six year olds ride a final test under their steady riders. Dressage and Show Jumping are the only discipline in which special tests for ponies are organized. These tests follow the same principle as the horse test.
The 1999 Bundeschampionate were a big success. The quality of the horses has risen yet again and more than 37,000 visitors came to Warendorf to view youngsters which will continue their career in upper level equestrian sport as they grow older. Many of the Bundeschampionate champions will make it and already made it to the international top.
Day 1: Wahajama Top Scorer  at 1999 Bundeschampionate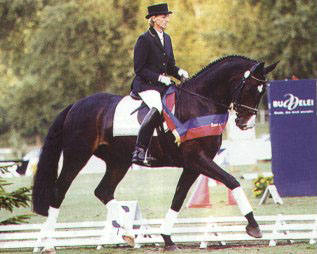 It was the black shining mare Wahajama who produced the top score of the day in the first qualifiers at the 1999 German Bundeschampionate. Pronounced as Best Young Dressage Mare in the World in Arnhem, Wahajama (Hanoverian by Warkant) gathered a 9.5 total under steady rider Holga Finken.
World Champion of the 6 year old Dressage Horses, Sandro Hit, had to step down from his number one position. FBW Lettina and Susanne Miesner (by Lanthano) took the lead and pushed Dr. Ulf Moller with his black pearl to a second position in the 6 year old division.
Auction highlight Lord Sinclair is planning on winning his third consecutive champion's title, as he easily won the first selection test of the championships with a 9.2 score.
Forum Zwei, ridden by Christoph Koschel, seems to have shaped up by placing fourth in the 6 year old class. At the World Championships two months ago Koschel could not convince the judges of his horse's qualities and was bound to take last place in the finals.
Best showing pony of the day was FS Don't Worry who received the high score of 9.0. Rider Jana Freund also took second place in the same class with FS Chiwago.
Day 2: Dornik B offspring Excels in Pony Classes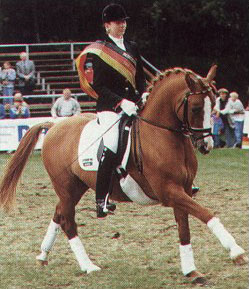 During the second day of qualifying tests at the annual Bundeschampionate in Warendorf, Germany, the offspring of Dornik B has proven to posses quality, flexibility, and potential. Dornik B himself was triple German Dressage Pony Champion in the stallion class under former European Pony Champion Jana Kun.
Four Dornik B decendants captured positions one to four in the 3 year old mare and gelding class for dressage ponies. Stefanie Meyer Biss, the steady trainer at Germany's most famous Trakehner breeding centre, Gestut Vogelsanghof, was able to qualify a large number of ponies and horses for this year's championships. With Destiny B and Darwin B Meyer Biss captured first and second postion scoring 8.4 and 8.2. Ines Westendarp came in third on Di Baggio, a Dornik B gelding bred in the Weser Ems area. Jana Freund and FS Golden Starlight (by Dornik B) received a fourth spot with a 7.9 total.
Miriam Henschke, rider of Lord Sinclair, also won the 3 year old stallion class. With Future Cup, a lovely Westphalian by Florestan I, she scored 8.5. Last year's winner of the 5 year old pony stallion class, Power and Paint (by Power Boy), won the six year old division scoring 8.5. Power and Paint is a lovely dun colored pony with elastic gaits. Third at the 1999 German Pony Dressage Championships was Diddi Keeps Cool. Diddi and rider Christina Thomas now had to be pleased with second position behind Power and Paint, setting an 8.3 total.
Day 3: First Champion Titles Awarded at Bundechampionate
More than 10,000 visitors headed for Warendorf to view the first Finals of the 1999 Bundeschampionate on Saturday, September 4th.. In the 5 year old Dressage Horse division prophesied champion Wahajama (Hanoverian by Warkant - ridden by Holga Finken) won her consecutive championship title. Winner in the four year old division for mares and geldings was the gorgeously looking Ronaldo. Susanne Miesner; an acclaimed professional dressage rider,  rode this Oldenburger gelding by Rohdiamant to a win. State Breeding Stallion Londonderry (Hann, by Lauries Crusador xx) dominated the four year old stallion class under Peter Achilles.
The first titles were also proclaimed in the pony pack. Former European Pony Champion Jana Kun rode her four year old FS Pascalina (by FS Pavarotti) to the title in the mare and gelding class. Stallion FS Don't Worry (by FS Dacapo Doro) won his gender class among the four year olds. Bred in Rhineland and ridden by Jana Freund, FS Don't Worry is an excellent prospect for the FEI Dressage Pony circuit.
Day 4: Sandro Hit hits the sky in Warendorf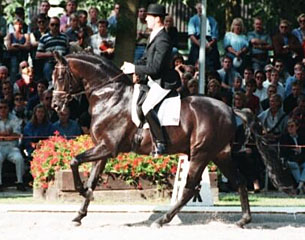 It looked like World Champion Sandro Hit would not make it to first position in his own country's Young Horse Championships, but in the finals the black approved stallion distanced himself with a small difference from his female competitor FBW Lettina, a Baden Wuertemberger mare by Lanthano. With a 9.5 score Sandro Hit became German Champion of the 6 year old Dressage Horses. Nicole Casper rode her Lettina to a reserve championship position with a 9.2 score. Last year's five year old champ Del Piero came in third. In the six year old Dressage Pony division Diddi Keeps Cool, the bronze medallist of the German Pony Championships, won his age class. Diddi's sired by former European Pony Champion Derano Gold. Julia Katharina von Platen, who had to stay home from the 99 European Junior Riders Championships due to her horse's injury, took revenge by winning the 5 year old Dressage Pony class with Keep Cool (by Kastellano). Holga Finken, who already hailed victory with his black mare Wahajama, wrote the 3 year old mare and gelding class' title behind his name. With the Wolkenstein II descendant Wildest Dream he scored a grand total of 61.49
Related Links
FBW Lettina, Wildest Dream and Pilgrim's Red Stand Out at 1999 Bundeschampionate
Scores 1999 Bundeschampionate