1999 Pavo Cup Finals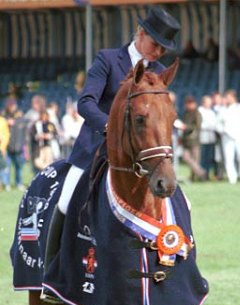 What started off as a trial version for a Young Dressage Horse Show Circuit soon turned out to be a huge success. In five years time, the Pavo Cup, sponsored by horse feed company Pavo, became a highly commercialized tournament which assembles the best KWPN horses in Holland.
Throughout the spring and summer show season several selection shows pick out the best young dressage horses to compete in the finals, which are held during the Rabobank Paardendagen. The finals consist of two selection tests and a final test in which two foreign riders try out each mount and score them on their qualities and potential.
It were the stallions of KWPN studfarm Broere, that dominated this year's Pavo finals. In the four year old division steady "Broere" rider Liseon Kamper impressed judges Stephan Clarke, England, and Shannon Oldham Dueck, Canada, with the stallion Broere Norway. The liver chestnut received a final 90 points score of Clarke who describe the mount as the nicest horse he had ridden during the Pavo Cup finals. Oldham Dueck tested Norway on his consistency against pressure, his balance and speed of the hind leg. She noted down 86 points, which resulted in a victory of Broere Norway (Jazz x Ulft).
The most important finals are the five year old class, in which Broere Montecristo dominated. The approved bay stallion by El Corona x Clavecimbel) already became Reserve Champion in last year's Pavo Cup, but this year Liseon Kamper aimed for more and received the grand laurel. Clarke gave Montecristo a 10 and described the bay as an excellent Grand Prix potential. Oldham Dueck, who was not afraid to test the 5 year old on canter half passes and flying changes, gave 97 points which led to a 92.5% overall score. Reserve Champion among the five year olds was World Champion Roval Investment. The chestnut gelding received a 88.75% total.
Complete scores of the 1999 Pavo Cup Finals here
Image copyrighted by Steven Stegen