1999 European Young Riders Championships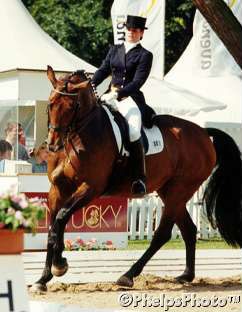 Never before has Germany delegated such a strong Young Riders team as the one that came, saw and conquered at the 1999 European Young Riders' Championships in Ksiaz, Poland.
The German YR team, consisting of Christine von Oldershausen, Tina Wehlmann, Nadine Maiwurm and Astrid Buer, made every sound hush as they performed 12 absolutely perfect tests which made them collect the team gold and individual gold, silver and bronze medal.
Even though all four were equally strong, it was Christine von Oldershausen who captured the individual gold. Her mount Amica Farina appeared to be in excellent shape as she won the team test (71.09%) and later on the individual finals (72.79%). Team mate Tina Wehlman dominated the preliminary test (70.67%) with Grand Fox, but settled on a final silver second position (72.63%). Bronze was awarded to Nadine Maiwurm who rode her gorgeous chestnut Don Fredde Robinson to a third place (70.79%). Astrid Buer and her Hanoverian What Joy (by World Cup) already won the individual silver medal at the 1998 European Championships, but this year her 70.52% test was 'only' worthy a fourth place.
Chef d'Equipe Holger Schmezer said that the German successes are a results of constant training and assistance which each of the riders receive. Before the Championships a one week intensive training camp was organized under the supervision of Klaus Balkenhol and GP Chef d'Equipe Madeleine Winter-Schulze. Consequently the German riders captured all top four places in each test and didn't score below 70% in the team and individual test in Ksiaz.
European Young Riders' Championship Scores
Image copyrighted by Mary Phelps