1999 European Pony Championships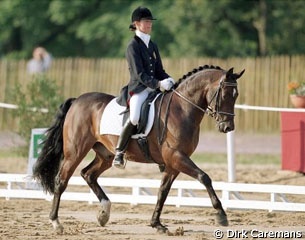 It wasn't meant to be this year. Although 16-year-old Delphine Meiresonne rode a terrific show at the 1999 European Pony Championships Dressage in Stromsholm, Sweden,  the "ungrateful" individual fourth place gave her no new medal to stick on her bedroom wall.
If plans would have gone right the young girl from Schoten, Belgium, would have been competing her second pony Top Yellow, but the inexperienced palomino stallion was not ready. "We want to present the best pony at the Euro Championships," mother Meiresonne commented, "and that means taking our Noble Casper who was in top condition."
Placing second in the Preliminary test, third in the Team Championships test and fourth in the Individual test (all scores in the low 70s) Delphine came home bare handed. The Team did OK, but only the really high score of Delphine is not enough for a team medal. Germany was incredibly strong this year; even stronger than all other years before.
The Germans all ride experienced ponies which already have competed at one or more ECs; Belgium and all other countries have thus no chancefor team gold. Albeit host Sweden can be pleased with their top notch European Pony Championships competition, as well as all competitors who made it through the trials and placed for this exclusive event.