Eurodressage F.O.C.U.S.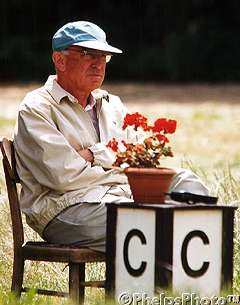 Dr. Reiner Klimke resides in Münster, a charming and very historical city in north-central Germany. There he combines his equestrian interests with his full-time profession as an attorney.
A former Olympic three-day event rider, he has been an international dressage competitor for more than 35 years, with many National, European, World Championship and Olympic titles to his credit. He is the only rider in any discipline to win six Olympic Gold Medals, including individual and Team Golds at the 1984 Los Angeles Games and Team Gold at the 1988 Seoul Olympics. 
Despite the demands of a busy law practice and actively serving on many boards and committees -- including the FEI Dressage Committee -- Dr. Klimke somehow makes time to ride as many as four horses per day. He has produced a number of outstanding equine athletes over the years, but is perhaps best known for the charismatic Ahlerich. A highly-strung bundle of power in his youth, Ahlerich could easily have gone wrong under another rider. It is testimony to Dr. Klimke's tact as a rider and trainer that the late "Ali" has come to epitomize correct classical dressage training.
Dr. Klimke's style is very distinctive. A tall, slim man, he personifies elegance, absolute control and total precision in the saddle. A deeply thinking and tactical rider, his approach is an academic one, underscored with patience. Taking one day at a time, the Klimke method is slow and painstaking. Once the horse's basic education is complete he may work him hard, but tries never to make the mistake of pushing him beyond the limit, thereby losing the horse's trust and natural generosity.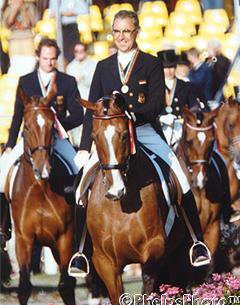 Dr. Klimke's most rewarding achievement in the dressage arena to date, was surely winning the Individual Gold at the 1984 Los Angeles Olympics. He describes the occasion as "the most beautiful moment of my life," since Ahlerich had given him everything a rider could wish for from a horse. "I have seldom sensed such an intimate connection between horse and rider as I did that day."
This is a man who builds the relationship with his horses to a level of great understanding and shared intimacy. Discipline is always there, as is a determination to win, and everything is analyzed with a great deal of thought; but for all his desire for victory, Dr. Klimke always displays a psychological understanding of the horse which is compatible with the classical principles.
Today, Dr. Klimke and his tremendously supportive wife Ruth, who helps school the horses on a day-to-day basis, spend much of their time assisting the next generation of Klimkes with their horse-related activities. Oldest son Rolf has chosen the fields of sports agent and film maker and is charged with the organization of the family's busy competition schedule. Son Michael, with his quiet, centaur-like seat, is proving his own talent as a world class dressage rider. Daughter Ingrid has inherited her father's love of eventing and is very successful on both the national and international levels.
Text and photo credit goes to Mary Phelps of horsesdaily.com