2018 KWPN Stallion Licensing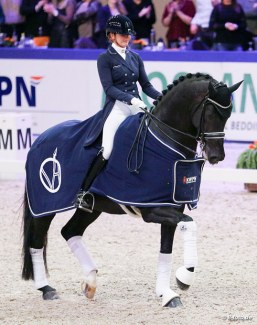 Emmelie Scholtens and the 10-year old Dutch warmblood licensed stallion Desperado (by Vivaldi x Havidoff x Ferro) became the winners of the annual VHO Trophy held at the 2018 KWPN Stallion Licensing in 's Hertogenbosch, The Netherlands, on Friday 2 February 2018. 
The VHO Trophy is an exhibition competition in which FEI level trained stallions showcase their gaits and training to the public. Not an official KNHS competition, the VHO Trophy is a way of bringing licensed breeeding stallions to the public in a show and competition format. 
The concept of the 2018 VHO Trophy was a changed one, once again. Riders had to present their stallion with an ad lib floorplan, while kur composer Joost Peeters played live music to each performance. 
Scholtens and Desperado were considered the best of the participating stallions and earned a pro forma score of 88.25%
"This horse has so much expression. The walk is ground covering, the trot very expressive with ground covering half passes, the front leg usage is very pretty," said KNHS technical director and dressage judge Maarten van der Heijden. "In piaffe Desperado takes the weight . We like to see quietness and relaxation. That's the harmony we want to see."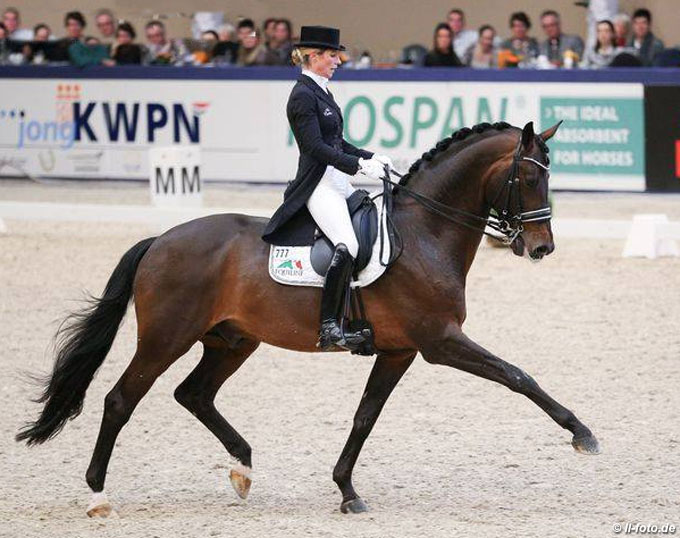 Rider Scholtens confirmed that Desperado is schooling the Grand Prix movements but has not yet announced her show debut at that level with the black stallion. "We're close but I haven't planned anything yet," she said.
German Isabel Freese (née Bache) finished second on the German owned KWPN stallion Bordeaux (by United x Gribaldi). She showed a high level of technical difficulty and received 84.5%
The 8-year old Ferdinand (by Vivaldi x Havidoff) finished third with 83%. This horse showed the small tour level movements under his owner Mirelle van Kemenade-Witlox. 
Further contestants in the 2018 VHO Trophy were Everdale (Charlotte Fry), Double Dutch (Thamar Zweistra), Cupido (Carlijn Huberts), Four Legens KS (Rozemarijn van Schaik) and Dark Pleasure (Femke de Laat).
Photos © LL-foto
Related Links
Westpoint Wins 2016 VHO Trophy
Capri Sonne Jr Wins 2015 VHO Trophy
Six Stallions to Compete in 2014 KWPN's Got Talent
VHO Trophy Becomes KWPN's Got Talent
Vivaldi Wins 2013 VHO Trophy
Vivaldi Wins 2012 VHO Trophy
Concept VHO Trophy Changed for 2012
Johnson Captures 2011 VHO Trophy
Tango Wins 2010 VHO Trophy
Florencio Wins 2009 VHO Trophy at KWPN Stallion Licensing