KWPN Breeding News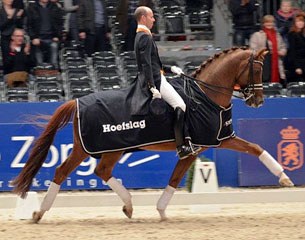 With loud cheering from the crowds the small tour horse Vivaldi was proclaimed winner of the 2012 VHO Trophy, a special exhibition show of small and big tour KWPN licensed stallions of which the winner was decided by public applause and cheering.
The VHO trophy winner used to be determined by the best kur to music performed in the competition, but this year the KWPN society changed the format into a "public vote". The stallion receiving the most applause would be named the winner. Each combination had to show off their qualities for three minutes and was musically supported by Kur composer Joost Peeters.
This year's VHO trophy participants were Dreamcatcher (by Day Dream x Rubinstein), Zucchero (by Depardieu x Caprimond), Johnson (by Jazz x Flemmingh), Universeel (by Olivi x Zuidhorn), Arlando (by Paddox x Mytens xx), Wynton (by Jazz x Matador), Zhivago (by Krack C x Jazz), Wonderboy (by Ramon x Nimmerdor), and Vivaldi (by Krack C x Jazz).
Hans Peter Minderhoud and Vivaldi were the last to go into the arena and the crowds blew the roof off De Brabanthallen at the end of his ride. Vivaldi is bred by A. Versantfoort and owned by Joop van Uytert, Ton Kies and Ad Valk.
Photo courtesy www.kwpn.nl
Related Links
Concept VHO Trophy Changed for 2012
Minderhoud and Johnson Capture 2011 VHO Trophy
Tango Wins 2010 VHO Trophy
Florencio Wins 2009 VHO Trophy at KWPN Stallion Licensing
Chippendale, Bon Bravour, and Apache Win 2011-2012 KWPN Stallion Competition
Forty-Two Colts Selected for Third Phase of 2012 KWPN Stallion Licensing