F.O.C.U.S.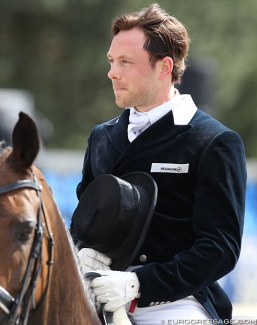 Dutch Laurens van Lieren is a former member of the Dutch dressage team. The young rider had his heydays in the mid 2000s, but in the last decade he found the spotlight not on horse back, but as a TV-commentator and show director for the CHIO Rotterdam.
He recently gave an interview to the Dutch newspaper Algemeen Dagblad in which he speaks of the Olympic dream, for 2024.
Heydays with Ollright
Van Lieren's career making horse was his father's home bred Hexagon's Ollright (by Rubiquil) with whom Laurens rode on the Dutch team at the 2005 and 2007 European Championships, the 2006 World Equestrian Games, and the World Cup Finals in 2006 and 2008 His individual 7th place in the Kur at the 2007 Euros and a team gold medal at the 2007 European Championships were the high points.  After the 2008 World Cup Finals Ollright got injured and the Olympic dream shattered.
"It was a big blow," Laurens said in his interview. "For years, day in day out you give everything for that one goal. I've competed everywhere, except at the Olympics. It's bitter."
The chestnut sold in 2010 to an amateur in the U.K. and it took Van Lieren three years to make a come back to the international FEI ring.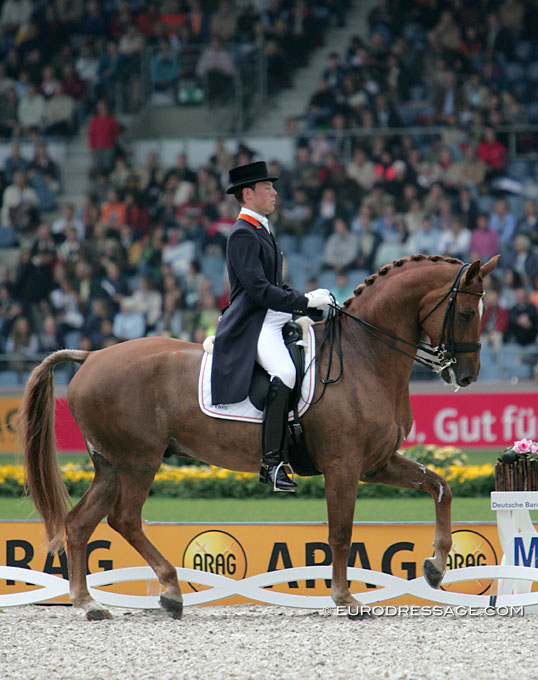 In 2013 he returned with Wellnetta, but the mare quickly sold to Jane Forbes Clark for Katherine Bateson to ride (Wellnetta only competed CDI's in 2014 and then disappeared from the scene). In 2013 Laurens also campaigned Tyara, who sold to Argentina, and Ulysses la Haya, which sold to the U.S. in the spring of 2015. The CDI-W Den Bosch in March 2015 was the last CDI in Van Lieren's international show career till this date.
Waiting for a Come Back
In the press the rider kept talking about a come back to top sport. Over the last few years he has struck several collaborations with sponsors, but it is still waiting for the first successes in the international show ring.
His partnership with wealthy sponsor Jan-Pieter Dalsem moved from an open collaboration of buying horses at auctions to a more silent, but still existing partnership. 
He collaborated with Russians Tatiana Dorofeeva and Nataliya Bronnikova in 2016 and briefly had the Grand Prix horse Upperville in his barn, but he was there to be sold. 
"The training of horses is my business model. Top sport is a hobby. You just don't make so much money with dressage sport," Van Lieren was quoted saying in 2016.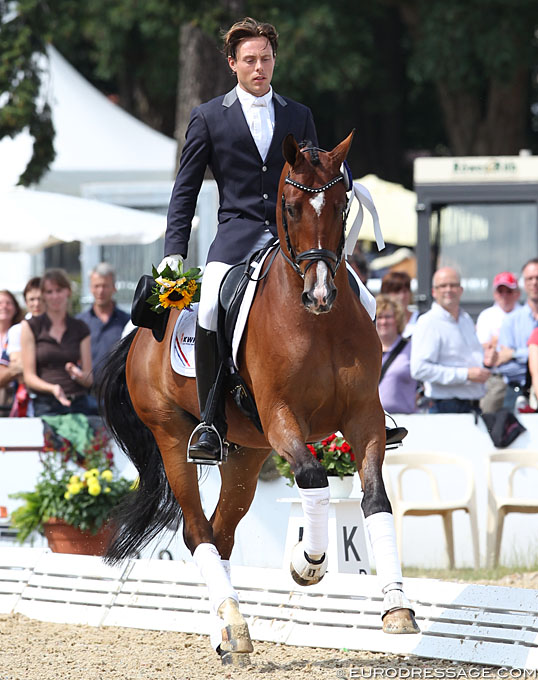 Although his father is the steady force at Stable Hexagon in Schore, Van Lieren has tried to make it on his own at different yards in The Netherlands. He has been based on his own at Selevia Hoeve in Werkendam, where he worked alongside his ex-fiancée Lynne Maas. Now he's based in Giessen with girlfriend Devenda Dijkstra.
He had the talented stallion Gunner KS in training in 2015, but lost the ride to Dana van Lierop. However, Vonkenstein arrived in his barn when the other left. He also had Vivanck (by Royal Dance) in his barn in 2015, but  a year later Holly Rawlins took up riding him. His  Grand Prix horse Northside Zingar (by Gribaldi x Damocles) was shown at national competitions the last three years, but in September 2019 the horse found a new rider.
Nowadays, Laurens has been showing Grandeur A (by Jazz x  OO Seven), which he co-owns with Dalsem, at PSG-level this summer. He also has been riding the home bred Grand Prix horse Ego (by Negro x Rubiquil) and he has Pavo Cup champion Happyness (by Rousseau) in his barn to train for owner Dalsem.
A New Path in TV and Show Direction
Over the years Van Lieren was able to work his way into show management and promotion.
He became a TV-commentator for dressage sport for the Dutch national channel NOS and covered the 2008 Olympic Games for the first time. The NOS re-invited him as an on the scene speaker in their equestrian programs for the 2012 and 2016 Olympics alongside famous presented Jan Roelfs.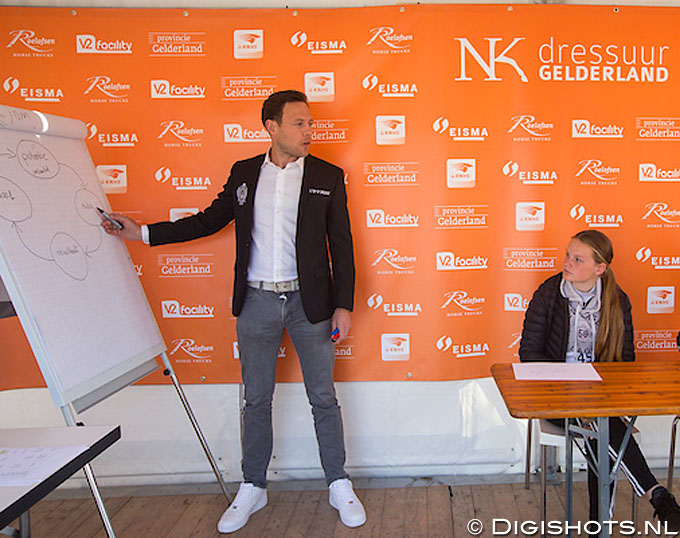 Van Lieren has also been working as a committed show director at the CHIO Rotterdam since 2015 and this year's European Championships at the same venue. 
2024 Olympics
Laurens explained that as a rider he will make his 2020 show start at Jumping Amsterdam on Dutch Design (by Vivaldi x Gribaldi), the horse with whom he aims for the 2024 Olympics in Paris. Laurens and Jan-Pieter Dalsem purchased the now 12-year old Dutch warmblood from the Russian Kartsevo stud in 2016.
"Tokyo next year is too soon, but you can write down my name for the 2024 Olympics in Paris," he said. 
Photos © Astrid Appels
Related Links
Laurens van Lieren and Lynne Maas Have Become Parents
Laurens van Lieren's Tyara Sold to Argentina
Jane Clarke Acquires Hexagon's Wellnetta for Katherine Bateson
Laurens van Lieren Goes Full Blast at the 2013 CDIO Vidauban
Hexagons Ollright Passed Away
Van Lieren Officially Selected as Fourth Dutch WEG Team Member
Hexagons Ollright Sold to England
Laurens van Lieren, Rabo Talent of the Year 2005
Laurens van Lieren to Focus on College Career