Australia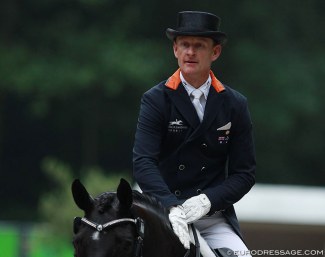 Australian WEG team rider Brett Parbery has decided not to renew his employment contract with Terry Snow of Willinga Park going into 2020. 
Parbery became a head rider for Terry Snow in December 2017, closing his own yard in Penrose, NSW and relocating to Bawley Point, NSW. 
In 2018 Parbery represented Australia at the World Equestrian Games aboard Susan Duddy's DP Weltmieser. Snow purchased several rising FEI horses for Parbery to ride, including Fusion de Hus, Theodore, and Spot On.
Six weeks ago, Parbery fractured his femur falling off a young horse. Snow hired Megan Bryant to substitute for Brett while he recovered. 
"The injury is healing really well but whilst I was having my healing time on the lounge, it gave me some quality time for reflection, and after some very careful consideration I feel that the time has come for me to make some changes," Parbery stated. "After two fantastic years of working alongside Terry Snow and the fabulous staff at Willinga Park, Bawley Point, I have decided not to renew my employment contract going into 2020. Instead, I'll be returning to our family home in Penrose, NSW Southern Highlands. It will be from here that I will further pursue my passion for equestrian education, coaching and mentoring."
Parbery added that his association with Willinga Park will remain, albeit in a less formal role.
"I will continue training one or two of the Willinga team horses, and will take on the role as mentor as required by the new permanent dressage team rider," he said. "Back in Penrose, our main focus will be on making even bigger and better our fabulous online training platform The Parbery Program. I'm thrilled to be launching into 2020 completely focused on helping as many riders as possible to achieve their dreams."
Photo © Astrid Appels
Related Links
Megan Bryant to Substitute for Injured Brett Parbery at Willinga Park
Brett Parbery Fractures Femur in Riding Accident
Brett Parbery's Tokyo Hopeful Theodore Passed Away
Brett Parbery's DP Weltmieser Sold, Three New Horses in the Barn
Brett Parbery Relocates to Willinga Park