2019 CDI Segovia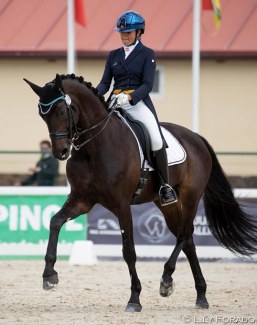 For the past three years Spanish combination Carla de la Fuente de Pablos and her mare Fay have been one of Spain's top scoring junior/young riders duo but they were always the bridesmaids at National Championships or stood in the limelight of other stars. The tables seem to have turned in 2019 and most recently they achieved a triple victory at the 2019 CDI Segovia.
An international duo since 2016, De la Fuente and her 12-year old Hanoverian bred Fay (by Fidertanz) have grown through the years. The mare took Carla straight from ponies onto the Spanish team for the 2016 European Junior Riders Championships in Oliva Nova, where they finished 45th in the individual test. A year later, they were 24th at the 2017 European Junior Riders Championships in Roosendaal. In 2018 they missed out on a team spot for the European Young Riders Championships in Fontainebleau, but at the National Championships they scored silver as revenge. It was their third national silver medal three years in a row!
De la Fuente and Fay are now saying no thans to the bridesmaid's role and claiming the spotlight for themselves. In August 2018 they travelled to Nice, France, where they achieved their first CDI hattrick, a double victory followed at the CDI Granada in April 2019, three top ten placings at the CDI Saumur two weeks ago and last weekend a trifecta at the CDI Segovia. 
In Segovia the duo scored 70.147% in the team test, 72.010% in the individual and 70.392% in the Kur to Music.
"Fay was great," Carla told Eurodressage. "I think it has been one of our best competitions. Every day I feel closer to her, we have a better connection. She is great, always willing to work, and she´s improving from the quality of her movements to the precision of the exercises."
Carla lives and trains at her family's breeding, sales and training facility Aequima, located in Segovia as well. She is currently studying Business administration at IE University and combines her studies with riding around three horses per day. 
Her father discovered Fay as a foal at the Klosterhof Medingen auction in Germany. Carla and Fay have literally grown up together. 
"Fay and I have grown together rising from category to category, solving the difficulties of each level and learning together. I hope to continue with her in the Under 25," said Carla. "My plans are to do the Masters competition, which is where they choose the teams for the European Championship and if all goes well, the European championship and the Spanish championship. I would also love to finish the year in the international competition in Lisbon."
Photos © Lily Forado
Related Links
Scores: 2019 CDI Segovia
Hessel Ferrer, Bacariza Danguillecourt, Abollo Fontela and Martinez del Moral Win 2018 Spanish Youth Riders Championships
Pons Sole, Abollo and Blazquez Win 2017 Spanish Youth Riders Championships
Serrano Pons, Segui Pons, Navarro Torrens Win 2016 Spanish Youth Riders Championships
De La Fuente, Ramirez, Laiz Wins 2015 Spanish Youth Riders Championships
Carla de la Fuente Wins Pony Division at 2015 CDI Valencia