2019 New Zealand Young Horse Championships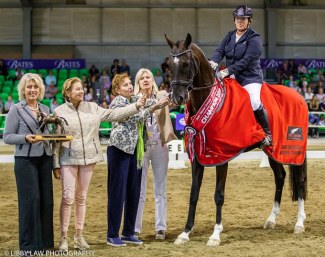 International Judges, Elke Ebert, FEI 5* judge from Germany, and Maja Stukelj, FEI 4* Judge from Slovenia, have both been busy judging classes this week at the Bates NZ Dressage Champs, from the Young Horse classes right up to the FEI CDI ***.
Maja Stukelj, who is an international Young Horse Judge, was part of the judging panel for the three age group classes in the New Zealand Young Dressage Horse competition. She has been rather impressed by our pool of young horses.
"New Zealand has some lovely young horses here, but your riders need a greater depth of knowledge to be able to train and present these lovely horses. In Europe many of our riders start off on schoolmasters, to learn the feeling of the movements, which means the riders gain the experience and knowledge to pass along to their young horses. It would be nice to see more of this in New Zealand. Understandably, New Zealand does not have the same large pool of experienced school masters for all your riders to learn on, but if you can experience a schoolmaster, it will allow your training to more efficient and correct."
During the Young Dressage Horse Final on Saturday night, Stukelj took to the microphone as she assessed each of the age group finalists, and explained to the audience what she was looking for. She was generally impressed that all the horses had 3 quality gaits, but felt some of the horses could be a bit more uphill. Suppleness and elasticity were also key attributes she liked to see in horses at this level, and was generally happy with all three finalists willingness to go forward.
While Ebert was not part of the judging panel she was impressed by New Zealand's young horses coming through the lower grades, particularly in the level 2 class she judged.
She felt the riders were kind and confident, and rode in a nice contact. " The horses I have seen have all generally been really supple and relaxed, which is what I like to see in a young horse. All of the horses have a great attitude to go forward." She is particularly impressed by the New Zealand horses walk. " In Germany some of the horses have a bit too much pressure put on them in the walk, in New Zealand, your riders ride the walk in a much more relaxed way, which results in a natural and free walk." She has given some great scores to some of the young horses she has judged this week, commenting "When horses are nice, we give them high marks, they really deserve the marks that we give them."
She was overall impressed with the horses, how they were ridden, and the positive attitude of the riders bringing the horses along.
Text by Alicia Denz - Photo © Libby Law
Related Links
Quendrix, Fanfare MH, JHT Anatomy Win 2019 New Zealand Young Horse Championships
Gradowski, Sage, Galloway and Way Win 2019 New Zealand Dressage Championship