2019 New Zealand Young Horse Championships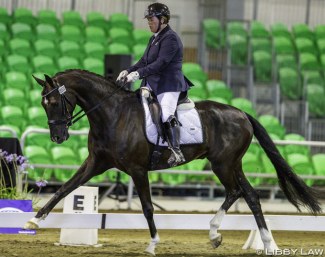 The 2019 New Zealand Young Horse Championships came to a spectacular conclusion with a Champion of Champions' ride off in the Manfield Park indoor arena on Saturday 16 February 2019. 
The three age group winners were presented to the judging panel of Young Horse Judges, Maja Stukelj, Linda Warren-Davey, Kerrie Swan-Bates and Margs Carline. Of the thirteen participating horses in the three age classes, no less than four were sired by the Oldenburg licensing champion Furstenball!
First up was Catherine Smith who presented her kind 4-year-old gelding Quendrix, a New Zealand Warmblood by Quaterhall out of Rosari Sakana. The leggy black gelding was bred by Debra Bromley and the judges were particularly impressed by his natural uphill tendency and suppleness.
Winners of the 5-year-old class, Casey Burton and the Matthews Hanoverians-bred mare Fanfare MH were next in. Stukelj described the mare, who is by Furstenball and out of Danzare MH, as a nice elastic and quality type who is never against the rider, and while the judges thought she had a quality canter, they said they would like to see her a little more uphill and active behind. "Overall, a quality horse with good gaits who has potential for the upper levels." Fanfare MH prolonged her title from 2018.
Imported six-year-old JHT Anatomy, ridden by John Thompson, displayed a very energetic trot and the judges were pleased with how off the ground and balanced the Apache gelding was. The canter showed good ground coverage but Stukelj noted that "maybe this horse likes to canter more than to trot" after some slight tension in the trot. The judging panel would also like to see this horse a little more uphill. "The canter has very good ground coverage though, and there is enough ability and willingness to collect."
Warren-Davey emphasised that it was not an easy decision for the judging panel to single out a winner, but after much deliberation, Canterbury Amateur rider and 4-year-old Quendrix were named overall winner and the Elite Equine Young Dressage Horse Champion.
"The horse had so much elasticity in trot, an uphill canter, and a really good walk. He has a lovely character, and very well presented, but the decision was really, really tough," said Stukelj.
Text by Alicia Denz, edited by Eurodressage - Photos © Libby Law
Results - 2019 New Zealand Young Horse Championships
4-year olds
1. Quendrix (NZL, by Quaterhall) - Catherine Smith - 73.4 - 80.6
2. Baretta MH (HANN, by Belafonte) - Reece Downham - 70.8  - 74.4
3. PSL Jahzara (NZL, by Jazz) - Ashleigh Kendall - 65.8  - 70.6
HPH Fascinate (HANN, by Furstenball) - Nicky Majoor -  63.2 - DNS
5-year olds
1. Fanfare MH (HANN, by Furstenball) - Casey Burton - 76.6 - 82.2
2. Rajani (NZL, by Royston Rockstar) - Tracy Smith - 72.6 - 71.8
Stoneylea Felicio (HANN, by Furstenball) - Christine Weal -  70.2 - DNS 
Ganache MH (HANN, by Gymnastik Star) - Kathryn Corry - 66 - DNS
Jalyn Special Effects (AUS, by Sir Donnerhall) - Hannah Gibson - 65 - DNS
6-year olds
1. JHT Anatomy (KWPN, by Apache) - John Thompson - 77 - 68.8
2. Aroha MH (HANN, by Anamour) - Casey Burton  - 74.6 - 68.6
Redwood Furst Affair (HANN, by Furstenball) - Morgan Beere - 69 - DNS 
Josephs Dream (KWPN/TB, by GT Jake) - Anne Watts  - 62.6 - DNS
Related Links
Fanfare MH, Aroha MH, HP Fresco Win 2018 New Zealand Young Horse Championships
Stoneylea Welt Princess, HP Fresco, River Park Luciana Win 2017 New Zealand Young Horse Championships
Sartorial Hit SW, Glamorgan By Design, Leo Donna Win 2016 New Zealand Young Horse Championships
New Zealand Judges on Young Dressage Horse Training Trip in Pursuit of Knowledge