2019 New Zealand Dressage Championships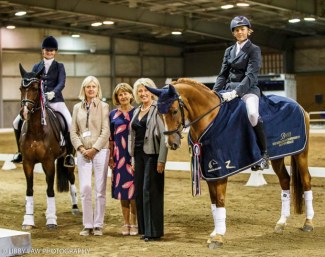 Pony rider Samuel Gradowski, young rider Amy Sage, medium tour rider Melissa Galloway and Grand Prix rider Vanessa Way won the titles in their respective divisions the 2019 New Zealand Dressage Championship held at Manfeild Park in Feilding, New Zealand on 14 - 17 February 2019. 
The New Zealand Nationals kicked off on Valentine's Day 14 February 2019 and ran through the weekend, with the majority of the Freestyle finals held on Saturday.
The National Championships for the FEI level divisions were CDI classes bringing some international flair to the event.
Gradowski, Sage and Galloway In the Winner's Circle
For the second time an international FEI pony level division took place at the Nationals. Its debut was in 2017 with three combination (Caitlin DeLangen, Morgan Beere, and Isabella Chatfield; the latter being the only one to move on to the kur at the time). This year two combinations came to the starters' line and there was an actual ride-off in the Kur. In the CDI-P FEI Pony Musical Freestyle, Samuel Gradowski-Smith and Rebecca Mobberley once again battled it out, with both combinations showing promising work.
In the end, Gradowski and her 10-year old Irish sport horse bred Heritage Don Quilla (by Don Quattro out of Wynyard Aktress) took out both the musical and the Pony FEI Medalist Title. The pair scored 61.714% in the team test, 63.018% in the Individual test and 65.935% in the Kur to Music. The 15-year old Rebecca Mobberley and her 15-year old Morgan cross pony Zak Smith (by Kirreway Allstars out of Deep Secret) scored 62.714% in the team test, 60.631% in the individual,  and 63.490%% in the Kur to Music to become the reserve champions.
"Wow, wow, wow, what a night last night, smiles all round," Gradowski took to Facebook. "What a week it's been, busy and early starts but all worth it. Heritage Don Quilla (Flirty) was amazing stepping up to her first big FEI CDI-P and showed some great work and what a bonus to come away with the win in the first NZ CDI-P is pretty special. It has been one heck of a journey with this pony, but it is all starting to come together from training her from just broken in to now I'm absolutely stoked. Now the big trip home to Auckland where flirty will have a break before training for the Horse of the Year Show."
Young Rider Amy Sage and her 10-year old NZL warmblood mare RM All About Me (by Anamour x Witzbold) continued their winning form after winning the team championship test with 67.892% and the individual test with 65.00%. In the Young Rider Musical Freestyle, she once again edged out Brina Carpenter and her 11-year old Hanoverian bred Lord Louis (by Limonit). Coached by Vanessa Way, the Auckland based Sage captured the Young Rider Title. Three riders contested the Young Riders division
Eight pairs competed in the medium tour championship, which consisted of the Intermediaire A, the Intermediaire B and an Intermediate kur to music. Seven pairs moved on to the last phase, the Kur to Music. Melissa Galloway and her 8-year old warmblood crossbred Windermere J'Obei W (by Johnson out of Miss Pompei xx) captured the title after securing the victory in the Freestyle. Last to go of the seven combinations, South Islander Melissa Galloway and her extravagant chestnut gelding pulled off a classy display to take the class on 71.545% ahead of local rider Cooper Oborn and the Anamour mare Aphrodite on 69.700%. Galloway and J'Obei W were second in the Inter A with 68.627% and first in the Inter B with 71.125%. Oborn was fourth in the Inter A with 63.971% and second in the Inter B with 65.542%. These two combinations were crowned Champion and Reserve, with Galloway securing the Trophy as the National Title winner.
Vanessa Way Back on Top with New Grand Prix Star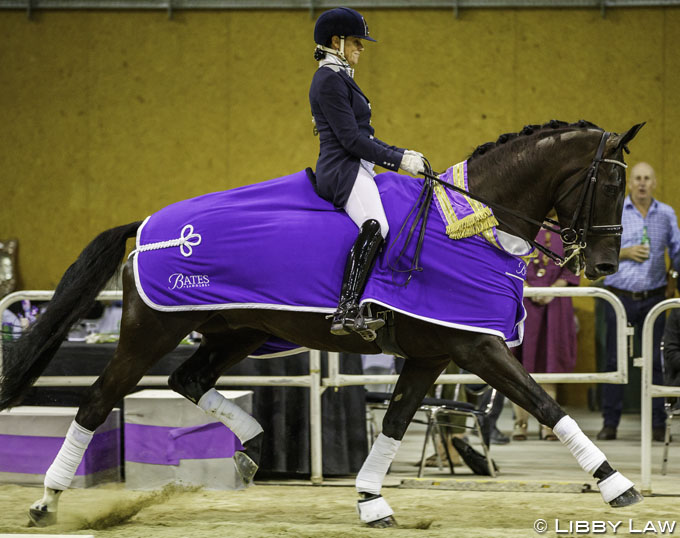 In the big tour Vanessa Way and her new Grand Prix horse NRM Andreas, an 11-year old Hanoverian bred Anamour offspring, took out two victories in the Grand Prix Special and Kur to Music and a second place in the Grand Prix to secure the Big Tour title at the Nationals.
The Grand Prix freestyle featured seven combinations and was going to be an interesting battle, as Taranaki's Vanessa Way and Waimauku's Wendi Williamson had each pulled off a win over the first two days of competition. Toni Louisson was first out on Astute, posting 65.16%, she was followed by Victoria Wall and Letty Lei EDH with a score of 68.065%.
Way was next to go on  NRM Andreas, whose trot tour had been particularly impressive over the competition. The combination pulled off a freestyle with a significant degree of difficulty, with Way describing the gelding as being "really green to this level, but he trusted me", being awarded a score of 72.495%.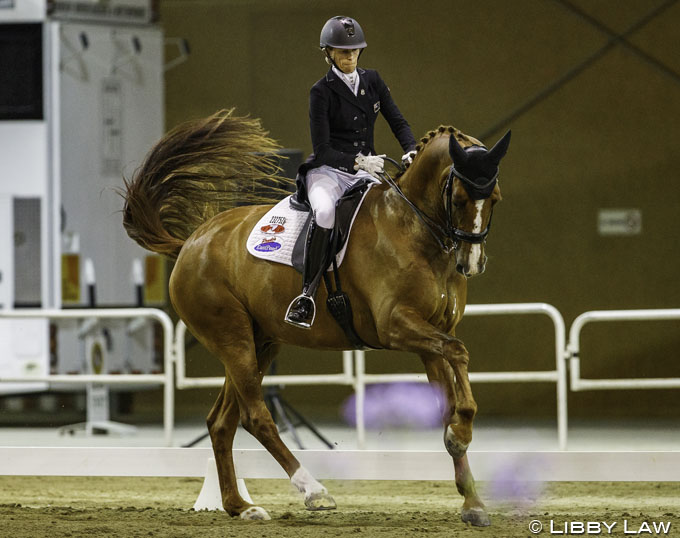 Williamson followed, pulling out another impressive test, set to music designed by husband Jon. She said her elegant chestnut, Don Amour MH, was "really brave tonight, which is a nice change", and finished on a final score of 72.485%, putting her only just behind Way.  Tonight's win in the freestyle resulting in Way and NRM Andreas being crowned the National Grand Prix Champion.
Jody Hartstone and her Lusitano Stallion, Ali Baba, kept it consistent, once again sitting in third. Hartstone was thrilled with the horse's performance: "he was a bit tired after the Grand Prix Special yesterday but he tried and I love him to pieces."
Two of New Zealand's most prolific Grand Prix riders - Julie Brougham (Vom Feinsten), and John Thompson (Antonello) - did not compete in the big tour in Feilding.
Photos © Libby Law
Related Links
Scores: 2019 CDI Feilding
Julie Brougham Wins 2018 New Zealand Grand Prix Championship
Beere, Sage, Benzie Wins the 2017 New Zealand Youth Riders Championships
Williamson and Dejavu MH Take Two at 2017 CDI-W Feilding
Champions of New Zealand Ride High on Local Turf at 2016 CDI Feilding
Molly Lumb Wins 2016 New Zealand Young Riders Championships
West and Noble Win Big at 2015 New Zealand Young Riders Championships
Catherine West Wins 2014 New Zealand Young Riders Championships
Kate Welten Retains Title at 2013 New Zealand Young Riders Championships
Kate Welten Wins 2012 New Zealand Young Riders Championships
Kate Welten Crowned 2011 New Zealand Young Riders' Champion
Georgia Worth, 2010 New Zealand Young Rider Champion
Appleton, 2009 New Zealand Young Rider Champion
Hannah Appleton wins 2007 New Zealand Young Rider Championship