2019 CDI Wellington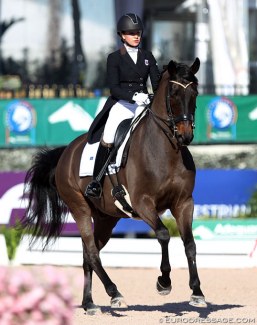 American Grand Prix rider Hope Cooper has made her mark in her international Under 25 debut at the 2019 CDI 5* in Wellington, Florida, on 7 - 10 February 2019. 
The Wellington Under 25 Debut
The 22-year old Cooper is in the fortunate position of having two irons in the fire for her budding Under 25 career: her long-time partner Don Diamond, a 14-year old Oldenburg by Don Gregory out of Oldenburg elite mare champion Reine Seide (by Rohdiamant), and her ride of three years, Mary Mansfield's Hot Chocolate W, a 14-year old Hanoverian by Hochadel x Pik Senior x Einstand I.
At the 2019 CDI Wellington, Cooper placed second and fourth in the Intermediaire II with Hot Chocolate W leading the way, while in the Short Grand Prix it was Don Diamond besting the field on 68.538% and Hot Chocolate W came in on fourth place. 
"The first day Diamond began feeling a bit tense in the ring after a super warm up, but most of the issues in the test had to do with my own riding," Cooper told Eurodressage. "I was nervous, this was my first CDI I had done with him since 2014. I also very stupidly halted at the wrong letter at the end and got dinged for that! Chocolate felt really great the first day in the Inter 2. Again any errors had to do with my riding. He is also super green at this level, this was only his second time doing the U25 ever. The second day I was so happy with how Diamond felt. From start to finish in the warm up and in the ring I really felt like we were together and thinking completely in sync."
Working Up the Levels
Don Diamond has been her reliable partner for the past seven years, taking her from junior riders to Grand Prix. The pair was 8th in the Kur to Music at the 2013 North American Junior Riders Championships and won team and individual test bronze at the 2014 North American Young Riders Championships. Now they are working at Grand Prix.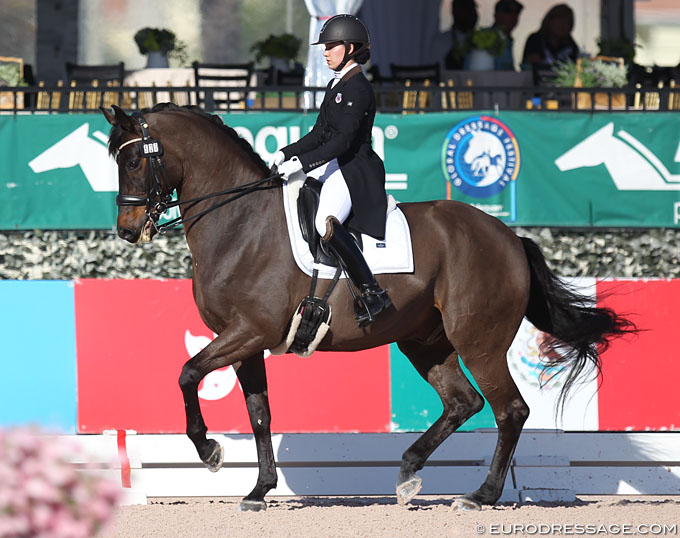 "We both began together knowing almost nothing. We did Juniors and Young riders together and with lots of help taught each other along the way," said Hope. "Diamond also had a metabolic issue that took a few years to figure out, we thought we were going to have to retire him. So as you can imagine every second in the ring with him is so emotional and so incredible! Being able to ride a test like that in Wellington, even though I know we can do even better, was a feeling I can't even put into words, I'm just so appreciative of everything he gives me."
Cooper's partnership with Hot Chocolate W began four years ago and they showed only once internationally at small tour level at the 2016 CDI Saugerties before their Wellington debut two weeks ago.
"I started riding Chocolate about four years ago when he was about Fourth Level. He is truly a genius," said Hope. "He has learned so fast sometimes I can barely keep up with him. This year for us has been a lot about figuring out what Chocolate needs at this level since it is so new to both him and I."
Cooper was pleased with what Hot Chocolate gave to her in Wellington, admitting that it is still  a work-in-progress for both the horse and herself. 
"On Sunday Chocolate was a bit tired. Normally he is super spunky and forward, but I would say I had about 70 percent of the horse I normally had, which made for lots of mistakes that we don't usually make," Cooper revealed. "I am figuring out more what he needs as we go forward and even though he was a bit tired, I'm very proud of him for never quitting on me and putting in his best effort during that ride. For being pretty new to that test I was really proud of him."
Coached by Mom, Building for the Future
Taking her time in 2018 to consolidate the Grand Prix work on both her horses, Cooper is now ready to put her training to the test in the arena. 
"I really love being in Wellington," she said. "This is the first time I have been here for more than a week, because usually I have school or an internship. It has been incredible, I have tried to remain super focused the whole time, getting up and working out, eating very healthy, and being the best version of myself for my horses! It has also been intense, I have learned so much as I have been here and can't wait to come every season."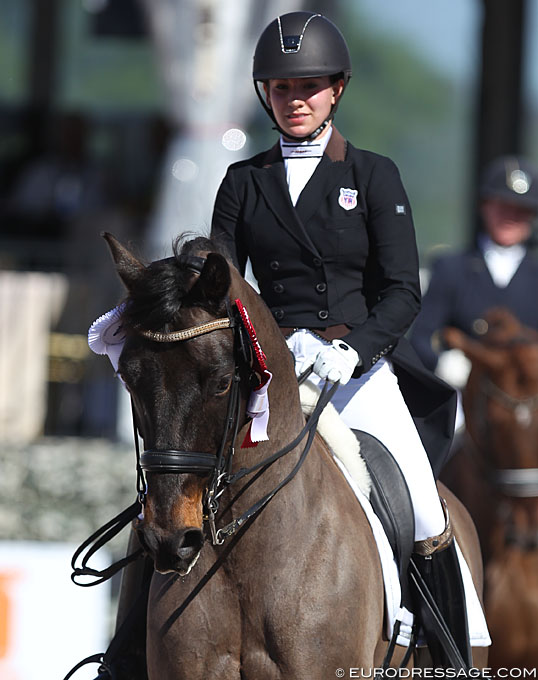 Hope is trained by her mom Jane Karol, an accomplished Grand Prix rider in her own right who is actively campaigning Sunshine Tour (by Sir Donnerhall I x Alabaster) at big tour level. Sunshine Tour, Don Diamond and Hot Chocolate W were all sourced in Europe through Jane's friend Viola Abrahams.
"It has been really exciting to have learn and go up the levels with two horses who did not know very much before I got to start riding them," said Hope about her rides. "I need to thank my mom for her help, and of course Viola Abrahams for finding these once in a life time horses. She is so incredible. She has an amazing eye, obviously, and is an incredible teacher and person."
Based at Bear Spot Farm in Concord, MA, Karol and Cooper embody how dressage sport can be great team work. By slowly training the horses up the levels they aim to emphasize a true friendship between horse and rider, built up in harmony on trust and pleasure.
"I love being trained by my mother," Hope confessed. "I didn't always, it was hard during the ages of 12-15 I would say, but we some how made it through. My mom is incredible, I love watching her ride and teach, I am always mesmerized. I used to spend hours every day watching her ride, especially during the time it was hard to take lessons from her. My mom is also such an incredible parent; so is my dad, but he is allergic to horses!. She has always known when she wants to help me, and when its time for me to ride with or get coaching from someone else. She is always bringing incredible people to our barn at home to do clinics too so I really feel like I have gotten the best of both worlds."
In Wellington Hope also got a few tips and tricks from former USEF Young Horse trainer Scott Hassler. "He's a really amazing teacher and coach," said Hope. "He said all the things I needed to hear before going into the ring that weekend."
Combining College with Dressage
Jane Karol is a doctoral level psychotherapist and works with children and adults in Equine Facilitated Psychotherapy at Bear Spot Farm. Her daughter's scholarly interests are as strong as her passion for horses.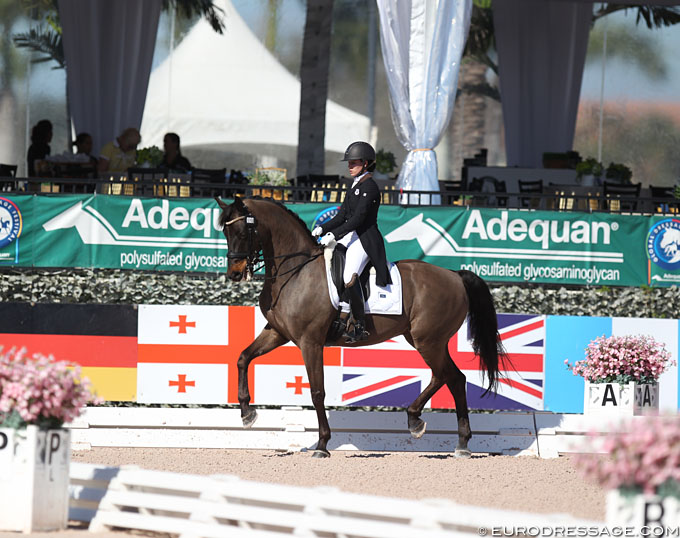 "I am a senior at Connecticut college. I triple major in Behavioral Neuroscience, Africana Studies and Dance. While I am here, I am actually working on my honors thesis which is a EEG study about Implicit bias. I took my senior spring off to come to wellington. It seemed like good timing for where my horses were at and also gave me lots of time to work on my thesis, and focus intensely on riding, which I have never been able to do quite like this before!
While Hope focuses on her education, her long term goal is to become a professional rider. However, she remains modest in her endeavours. 
"I do want to be a professional rider. Part of me wants to say yes in some ways but really I am just beginning in my profession," she said. "I think its takes 50+ years and then some to prefect this art. So in I would say I feel proud of my horses and myself for getting to this level and working hard, but I would also say I basically know nothing and am constantly ready to learn more."
For 2019 Hope has set her sights on taking both horses to the 2019 U.S. Under 25 Championships at Lamplight in Wayne, ILL, in the summer.
"And do incredibly well of course," she added. "My long term goals are to be the best rider and trainer I can be hopefully one day be able to represent my country doing just that."
Text and Photos by Astrid Appels
Related Links
Scores: 2019 CDI Wellington
Fraser and Lyle Lead Small 5* Field at 2019 CDI Wellington
Photo Report: Horse Inspection at the 2019 CDI 5* Wellington
Junior Natalia Bacariza Danguillecourt Shines on Romantico at 2019 CDI Wellington
Chamberlain and Bergeron Win Individual Gold at 2014 North American Junior/Young Riders Championships
Region 7 and 1 Win Team Gold at the 2014 North American Junior/Young Riders Championships
Scores: 2013 North American Junior and Young Riders Championships
Schueler and Abrahams, Match Makers Connecting Horses and People Globally