2014 North American Junior/Young Riders Championships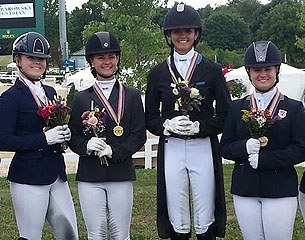 The first day of competition at the 2014 North American Junior & Young Rider Championships kicked off at the Kentucky Horse Park, with dressage riders taking to the Rolex Stadium. Region 7 and Region 1 proved unbeatable, as they clinched Young Rider and Junior Team Gold, respectively.
Region 7 won the Gold medal in the Young Rider division of the USDF/Platinum Performance North American Junior and Young Riders' Dressage Championship for the second year in a row, while the Canada/Quebec team won the Silver and Region 8 received Bronze medals. The team from Region 1 took home the Junior Gold Medal. Canada/Ontario won the Silver medal, while the Bronze medal went to Region 6/7.
The Region 7 Gold medal winning Young Rider team consisted of:
Anna Buffini (20, San Diego, Calif.) and Sundayboy - 68.921%
Lindsey Brewin (16, San Ramon, Calif.) and Vaillant - 65.526%
Catherine Chamberlain (19, Murietta, Calif.) and Verdicci - 72.132%
Cassidy Gallman (19, Poway, Calif.) and Grand Makana - 65.684%
They had a team total of 206.737 for victory. The riders attributed part of their victory to great teamwork and a large support system.
Buffini noted, "This has been an amazing experience. I've never been here before; I've been watching for years now. It's always been a dream of mine to be here, sitting here with this group of girls, who I'm so blessed to be sitting by. We're a family now. We haven't known each other that long, but we're BFFs now. It's been a huge blessing to be here. I'm very thankful to be here and for the outcome. Winning the Gold medal has just been icing on the top."
The Silver medal went to Canada/Quebec with a total of 201.395:
Laurence Blais Tetreault (17, Montreal, Que.) and Michaelango - 65.342%
Julie Channell (21, Longview, Montreal, Que.) and Furstin Anastasia - 67.053%
Naima Moreira Laliberte (17, Montreal, Que.) and Nao Guimeraie - 65.763%
Tanya Strasser-Shostak (19, Ste-Adele, Que.) and Action Tyme - 68.579%
Strasser-Shostak and Action Tyme (by Aktuell x Aleksander), a 14-year-old Oldenburg gelding owned by Evi Strasser, earned the third highest score of the day in the Team test, with a 68.579%.  "I feel that my ride went really well and he was super in tune with me," said Strasser Shostak, 19, who is competing Action Tyme for the second year in a row at NAJYRC. "He was very well behaved as usual, and I am lucky to have such a reliable horse that I can put all my confidence in and ride to the best of my abilities."

"I'm so proud of these girls," said Ellen Rumball Dvorak, the chef d'équipe. "They all rode pretty amazing, and everyone is having a great time."
Region 8 won the Bronze medal with a total of 197.026:
Giulia Cohen (17, New York, N.Y.) and Lasserre - 65.868%
Hope Cooper (18, Concord, R.I.) and Don Diamond - 64.684%
Elizabeth Fell (18, Winooski, Vt) and Superstarr - 61.921%
Hannah McCabe (18, Lee, N.H.) and Valparaiso - 66.474%
Region 1 Junior Team Gold medalists (l to r): Katie Lang, Hannah Bauer, Bebe Davis, and Molly Paris (SusanJStickle.com)
The Region 1 team won the Junior division on a total of 199.784, taking home the Gold medal.
The Junior team from Region 1 consisted of:
Hannah Bauer (15, Purcellville, Va.) and Trustful - 65.189%
Barbara (Bebe) Davis (16, Bedminster, N.J.) and Feivel Mousekewitz - 65.649%
Katie Lang (18, Chesapeake, Va.) and FA Patriot - 61.622%
Molly Paris (19, Charlotte, N.C.) and Diamant Sky - 68.946%
Davis noted that she enjoys competing in a team competition in a typically individual sport. "I love the team aspect; I love being able to support my other team members and have them support me," Davis said. "It's such a great experience and it's definitely great preparation for the future, for those who have aspirations to go to the next level and to be, hopefully, representing the United States in international competition."
The Silver medal went to Canada/Ontario with a total of 197.785:
Vanessa Creech-Terauds (14, Caistor Center, Ont.) and Finja - 58.676%
Alexandra Meghji (16, Toronto, Ont.) and Iliado II - 65.649%
Sophie Potter (16, Kleinburg, Ont.) and Frisbee - 63.568%
Liza Wilson (16, Collingwood, Ont.) and Fleurina - 68.568%%
Region 6/7 won the Bronze medal with a total of 196.584:
Danielle Bonavito (15, Danville, Calif.) and Wyoming - 68.216%
Heather Decent (14, Gig Harbor, Calif.) and Norra - 60.108%
Lauren Mack (17, Monte Sereno, Calif.) and Lada'at - 64.486%
Olivia Zeilinger (16, Danville, Calif.) and Stentano - 63.892%
Related Links
Canadian Teams Selected for 2014 North American Junior/Young Riders Championships
Uhlir and Holleger Win Individual Gold at 2013 North American Junior/Young Rider Championships