2014 North American Junior/Young Riders Championships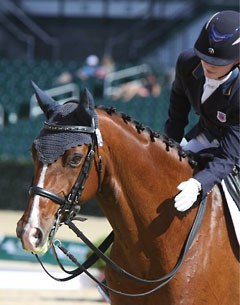 Dressage riders completed their tests for Individual medals today at the 2014 North American Junior & Young Rider Championships. Taking home the Gold medal in the Young Rider division was Catherine Chamberlain (Region 7) on Verdicci. The Gold medalist in the Junior division was Camille Bergeron (Canada) riding Lowelas.
The judges for the Young Rider Dressage today were: E - Lorraine MacDonald (CAN), H - Lilo Fore (USA), C: Cesar Torrente (COL), M - Marian Cunningham (PER), B - Mercedes Campdera (MEX). In the Junior Dressage, the judges were: E - Sandy Hotz (USA), H - Cesar Lepardo Grana (ARG), C - Gabriel Armando (ARG), M - Christof Umbach (LUX), B - Adrian Hamoen (NED).
With a score of 71.789%, Catherine Chamberlain (19, Murrieta, Calif.) and Verdicci took the Gold medal in the Young Rider Individual competition. Chamberlain rides for Region 7, which includes riders from California, Hawaii, and Nevada.
Chamberlain finished several points ahead of the rest of the field, and attributed that to experienced trainers. "I just started training with David (Wightman) and Kathleen (Raine) last November, and they are so experienced," Chamberlain said. "They've been to the World Equestrian Games, and all over Germany showing, so coming to their barn was a completely new experience for me. I've had my horse for seven years now, but there's always so much more to learn, and working with them has been working on the fine points."
David Ziegler (21, Beiseker, Alberta) and Peninsula Top Man won the Silver medal with a 68.289%. Ziegler is the first competitor in recent history to ride in two different disciplines in the same year at the NAJYRC, and believes his support team plays a large role in his success in such a busy week.
"I have a great team behind me, my parents, my chef d'equipes, my co aches, my grooms," Ziegler said. "They're all keeping me on track and making sure I'm everywhere I need to be."
Hope Cooper (17, Concord, Mass.) and Don Diamond earned 67.263% for the Bronze medal. Cooper rides for Region 8, which includes Connecticut, Maine, Massachusetts, New Hampshire, New York, Rhode Island, and Vermont
In the Junior division, Camille Carier Bergeron (14, Mascouche, Que.), who rides forCanada/Quebec/Alberta, and Lowelas won the Gold medal with a 70.342%.
Bergeron was very pleased with today's test, and felt that Lowelas was in his element. "My horse had a lot of energy, but a good energy," Bergeron said. "He was active and had really nice control. He came here last year, it was not his first time here, so he was familiar with the arena and the area."
Molly Paris (18, Charlotte, N.C.) and Diamant Sky received 68.868% for the Silver. Paris rides for Region 1, which includes Delaware, District of Columbia, Maryland, North Carolina, New Jersey, Pennsylvania, Virginia, and Eastern West Virginia.
Alexandra Meghji (16, Toronto, Ontario) and Iliado II won the Bronze medal with a 67.711%. Meghji rides for Canada/Ontario.
Related Links
Scores 2014 North American Junior/Young Riders Championships
Region 7 and 1 Win Team Gold at the 2014 North American Junior/Young Riders Championships