Denmark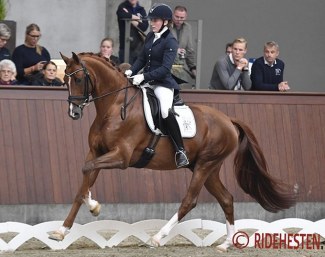 Danish Grand Prix rider Nanna Skodborg Merrald made the move to Blue Hors stud in Randbol, Denmark, in September and has found her stride working in the Blue Hors Dressage team. 
In January 2018 it was announced that Skodborg Merrald would join Blue Hors, but the 25-year old wanted to complete her Bachelor degree in molecular biology at Roskilde University in the summer before taking up the job full-time. She still has to wrap up two courses by January.
Merrald was the 2011 European Junior Riders Champion and she made her international Grand Prix debut in 2013 as a 20-year old young rider. Aboard Millibar she competed in the 2013-2014 World Cup qualifiers. Coached by Michael Sogaard, Merrald continued her GP show career on Weltliebe and Traneenggaards Akondo and rode Gorklintgaards Quantico at the 2016 World Young Horse Championships in the 7-year old division. With Saadan Que she competed at the 2018 European Under 25 Championships in Exloo, The Netherlands, and placed 16th in the Kur Finals.
On 1 September 2018 Nanna officially started at Blue Hors and was allocated a set of talented horses to train and compete.  She now works under the supervision of Blue Hors sport director Ulrik Sorensen, who also guided her as Denmark's national youth team trainer in her junior/young rider time.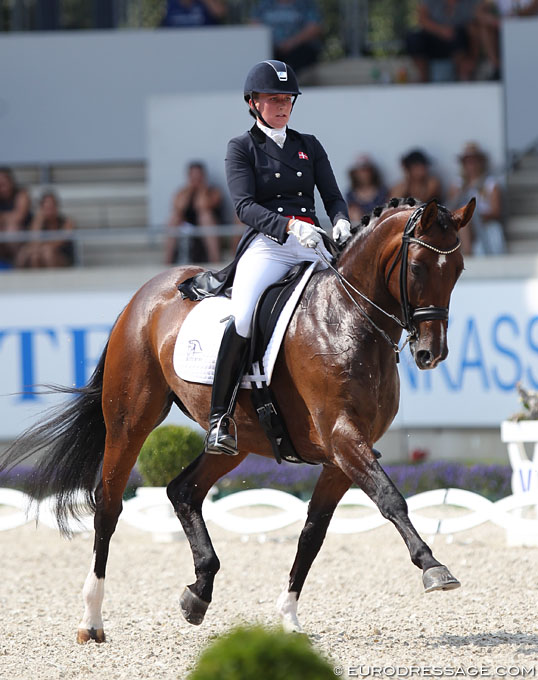 "It's a big difference being in such a place compared with my parents," Merrald told Eurodressage. "I'm feeling very lucky to have the opportunity to ride at Blue Hors. It gives my the inspiration that I sometimes missed at home. And then of course the quality of the horses is just amazing, I have so many great horses with a very bright future."
Nanna has been riding breeding stallions Blue Hors St. Schufro, Blue Hors Farrell, and Blue Hors Zalabaster, alongside the 6-year old gelding Blue Hors Zirrus (by Zack x Donnerhall), the Grand Prix schoolmaster Wasabi, the licensed stallion Bentley and some 4-year olds.  Several of those were previously ridden by Allan Grøn. She also her three own Quaterback offspring to ride: Sådan que, Gørklintgaards Quantico and Gørklintgaards Quater Boy.
"It's a delight to take them on," Nanna explained. "They are all very well behaved and so well educated."
At the beginning of November she took out two of them to their first regional show together in Brande, Denmark. With the 7-year old St. Schufro (by Sankt Moritz Jr x Don Schufro) she scored 80.00% in the M-level test and with Zirrus, who is a full brother to Agnete Kirk Thinggaard's Zatchmo, she scored 78.158%. The next day she upped the score with Zirrus in another M-level test to 80.00%.
"My plans for 2019 is to do a lot of national shows, get to know the horses and then I'll see how it goes," said Nanna. "Hopefully I have a horse ready for the Danish Championships this summer."
Photos © Ridehesten - Astrid Appels
Related Links
Nanna Skodborg Merrald Joins Team Blue Hors
Husenbeth and Skodberg Merrald On Top at the 2016 CDIO-U25 Braunschweig
Nanna Skodborg Merrald's Millibar Retired from Sport
Merrald Skips Olympic Dream for 2016-2017 World Cup Season
Merrald, Bachmann, Husenbeth Top Three in the Under 25 at the 2013 European Dressage Championships