Denmark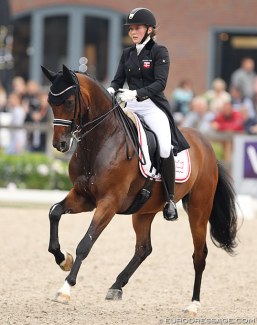 Danish Grand Prix rider Nanna Skodborg Merrald has joined the team of riders at the famous Blue Hors stud in Randbol, Denmark. 
The 24-year old Merrald was the 2011 European Junior Riders Champion and she made her international Grand Prix debut in 2013 as a 20-year old young rider. Aboard Millibar  she competed in the World Cup qualifiers and travelled to the 2014 World Cup Finals where her horse sustained a career ending injury.
Merrald continued her GP show career on Weltliebe and Traneenggaards Akondo. Most recently she rode Gorklintgaards Quantico at the 2016 World Young Horse Championships in the 7-year old division and in 2017 she took him to international small tour level.
Merrald hopes to get her Bachelor degree in molecular biology at Roskilde University next summer, so initially she will split her time between Halvsoe (right near Roskilde) and Blue Horse. Afterwards she will move permanently to Randbol.
"Nanna is a highly competent rider, who will complement the other Blue Hors riders greatly," said Ulrik Sorensen who is sport director at Blue Hors. "I'm convinced that with Nanna we found the right person according to our standards and who will achieve great results in the coming years."
Nanna has always been based at her parents' yard Lykkeholms Riding centre. On 1 February 2018 she will officially join the Blue Hors team
Source: Ridehesten - Photo © Astrid Appels
Related Links
Zibrandtsen Replaces Merrald on Danish Team at 2016 European Under 25 Championships
Husenbeth and Skodberg Merrald On Top at the 2016 CDIO-U25 Braunschweig
Nanna Skodborg Merrald's Millibar Retired from Sport
Merrald, Bachmann, Husenbeth Top Three in the Under 25 at the 2013 European Dressage Championships