2016 CDIO-U25 Braunschweig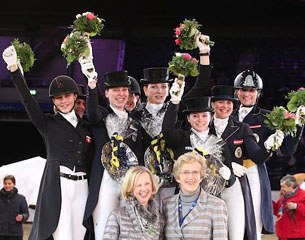 After the German Under 25 team took out the victory in the Nations' Cup at the 2016 CDIO-U25 Braunschweig on 11 - 14 February 2016, German Nadine Husenbeth and Danish rival Nanna Skodborg Merrald dominated the individual classes. Whereas Skodberg Merrald won the Short Grand Prix with 73.876%, Husenbeth took the Grand Prix Kur with 74.708%.
"It was absolutely fantastic competing at CDIO-U25 Braunschweig," Nadine Husenbeth told Eurodressage. "My mare Florida (by Fidermark x Grosso Z) and I won the Intermediare II for the team test as well as the freestyle, coming in second in the Short Grand Prix behind Nanna Merrald. Being part of a nation's team is an unbelievable experience for me and I also try to give my best for the team! I am absolutely happy and also proud of my success."
Nadine added that she was able to perform three very strong tests with Florida improving with each day.
"I think the freestyle was our strongest test. Everything fits so well to the music. I was very pleased with the tour in trot and canter, and we had our highlights in the piaffe and passage. I really love riding Florida in competition because she fights for me and she really loves to show herself off," said Husenbeth.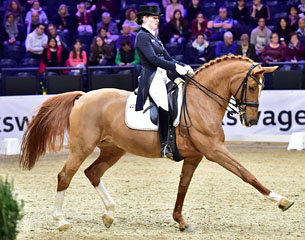 Taking over the ride on Florida from her father, Klaus Husenbeth, four years ago, Nadine has competedFlorida competed with Klaus up to  Grand Prix level.
At 23 years of age Nadine is studying economics at the University of Bremen.
"Studying means a lot to me too, and I try to give it my best. My plan for 2016 is to improve myself at Grand Prix level, and continuing training the younger horses," she said.
Danish Grand Prix rider Nanna Skodborg Merrald returned to the show circuit with a new ride, Traneenggaards Akondo, as she is still patiently awaiting the full recovery of her number one Grand Prix horse Millibar, who injured himself at the 2014 World Cup Finals in Lyon almost two years ago. 
Merrald was very happy with her performance on Akondo in Braunschweig and particularly her win in the Under 25 Short Grand Prix.
"My horse felt very well during the competition and I had some really good tests," said Nanna. "I was particularly excited because even though we still made some small mistakes, we scored very well, so there is room to do even better!"
Traneenggaards Akondo, a 14-year old Danish warmblood by Come Back II x Andiamo, is a very special horse with a lot of personality. Nanna feels that they work very well together. "He has a lot of power and loves to perform in competition," she added.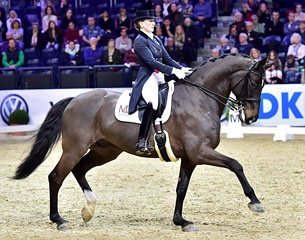 Not expecting to be awarded such great results so quickly, Nanna had a positive feeling in the back of her mind and noted that a lot of dressage comes down to timing.
"My trainer Michael Soegaard comes to my place every second week and I drive to him in between," Nanna explained. "In the training we work a lot on the suppleness. Akondo can do all the exercises, so most of the time it is just to keep him happy.  I am also studying at the university in Roskilde."
When asked how Millibar is doing, Nanna is delighted to report he is on his way back again.  "He is back in full training so my plan for the future is to compete with him again soon."
by Sarah Warne - Photos courtesy Karl Heinz Frieler / Lowen Classics
Related Links
Scores: 2016 CDIO-U25 Braunschweig
Nadine Husenbeth Wins 2013 Piaff Forderpreis Finals at CDI-W Stuttgart
Nanna Skodborg Merrald's Millibar Still on the Road to Recovery
Nanna Skodborg Merrald's Millibar Fails Re-inspection at 2014 World Cup Finals
Merrald and Team Denmark Reign in Under 25 Classes at 2013 CDIO Aachen