2018 Swedish Dressage Championships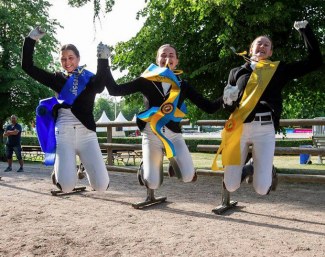 Junior rider Felicia Olofsson, young rider Evelina Soderstrom, Under 25 rider Marina Mattsson and senior Patrik Kittel became the winners of the 2018 Swedish Dressage Championships which were held at Stromsholm castle on 7 - 10 June 2018. 
The programme for the 2018 Swedish Nationals was action packed with a massive field of juniors and young riders. No less than 40 juniors and 32 young riders gathered in Stromsholm for the title match. 
In the junior ranks the 16-year old Felicia Olofsson and the 12-year old Swedish stallion Bellman (by Hermes x Prestige VDL) persevered and claimed gold with a total of 210.476 points. They were fourth in the team test with 67.172% but then pushed for power and won the individual test (71.029%) and Kur to Music (72.275%). Former pony rider Linnea Holmgren has made a smooth transition to horses aboard the 8-year old Oldenburg bred QC Sir Dennis (by Sir Donnerhall x De Niro) and landed silver with 208.389 points. They won the team test with 70.859%, and were fourth in the individual (68.480%) and kur to music (69.050%). Ellen Linden Urnes and the 11-year old Westfalian gelding Fairy Tale (by Friedensritter x Rosenkavalier) scored bronze with 206.952 points. She was second in the team test (67.778%) and third in the individual (68.824%) and Kur (70.350%). 
In the young riders division Evelina Soderstrom made the mileage on her 20-year old Grand Prix schoolmaster Weihenstephaner (by Warsteiner x Dwight) count and earned the title with 215.792 points. The rallye to the top step of the podium was not effortless one. After winning the team test with 72.059%, they were second in the individual with 70.833% and dropped to fourth in the kur with 72.900%. However, her total put her in the number one spot little over 1% more than silver medal winning Cecilia Berglund Bergakra on the 15-year old Swedish mare Primavera (by Don Primero x Figaro L). This combination started with a fourth place in round one (70.343%), climbed to first on the second day (70.931%) and third in the freestyle (73.300) to total 214.574 points. Sofie Andersson and the 11-year old Dutch warmblood gelding CSI (by United x Gribaldi) ended up with bronze on 213.469 points after two third places (70.784%, 68.2335%) and then the victory in the freestyle (74.450%). 
In the Under 25 division for young Grand Prix riders there was no doubt that long-time professional dressage rider Marina Mattsson would captured top spot on the 9-year old Hanoverian gelding Quatermain (by Quaterback x Wilawander xx). She won the Short Grand Prix with 75.684% and the Kur with 76.525% and stayed leagues ahead of the rest with her 152.209 point total. Denise Ljungkvist and the 11-year old Swedish mare Soega (by Sandakan x Amiral) grabbed the silver with solid scores of 71.496% and 72.575%, while Lina Dolk and the 20-year old Grand Prix schoolmaster Biggles (by Briar x Krevad) finished with bronze on 68.803% and 72.025%.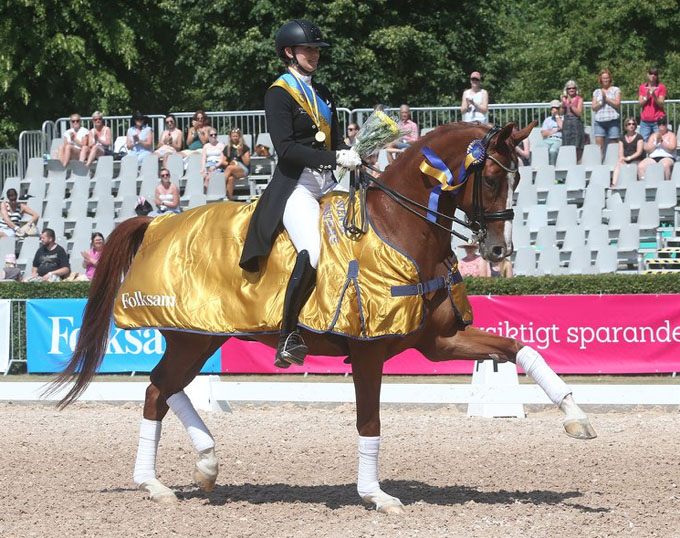 "Quatermain's ability to collect and relax is outstanding," Mattsson said about her mount. "This summer he'll do the Under 25 at the CDIO aachen and then the European Championships in Exloo. In the autumn we'll move to the senior Grand Prix division. He stays in our stable as he's my hopeful for the Tokyo Olympics."
Sweden's top senior Grand Prix riders showed little interest in competing at the nationals with a tough Nations' Cup programme on the schedule (Compiegne, Uggerhalne, Rotterdam). A-squad riders Tinne Vilhelmson, Juliette Ramel, and Therese Nilshagen were both absent in Stromsholm, which left ample room for Patrik Kittel to reclaim the title which he last won in 2016. In 2017 there were 27 Grand Prix riders entered for the Nationals, this year the total was even 29, including 80-year old Ulla Hakanson who rode her 48th Nationals in her career!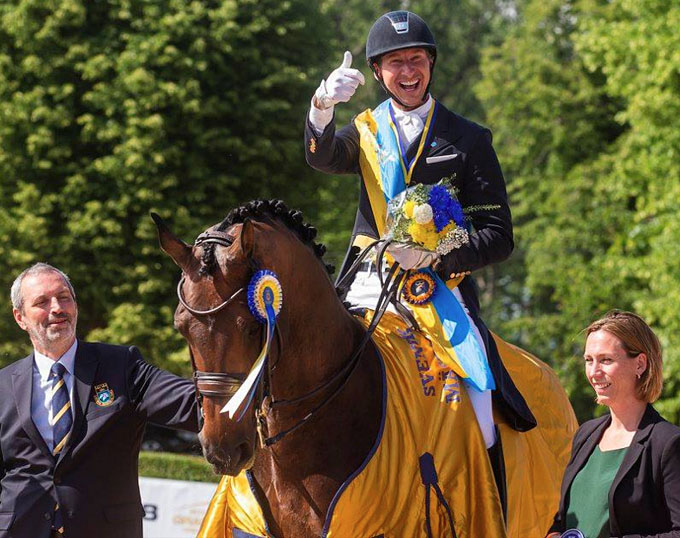 Patrik Kittel brought his number one horse, Marie Haward's 14-year old Swedish mare Deja (by Silvano x Don Schufro), to Stromsholm and won gold after two first places in the Grand Prix (77.000%) and Kur to Music (82.675%). His point total of 159.675 kept him no less than 14% ahead of last year's champion Rose Mathisen, who now finished in silver medal position wuth 144.955 points. Aboard Per Runesson's 14-year old KWPN stallion Zuidenwind (by OO Seven x Jazz) she was third in the Grand Prix (70.630%) and second in the freestyle (74.325%). Sofie Lexner and the Linden-Urnes family's 13-year old Norwegian stallion Tobajo Pik Disney (by Tobajo Picez x Walt Disnery) earned their first national bronze medal. They were second in the Grand Prix (70.739%) and third in the Kur (74.175%) to finish third overall with 144.914 points.
"I think it's important to come home to Sweden and ride the National Championships," Kittel explained, adding that his mare Deja felt on form. "We know each other right now and like this, I can test some things like stretching more, etc.  She is the best in the show ring. The more crowds the better."
Photos © Ronald Thunholm/Svensk Ridsport
Related Links
Scores 2018 Swedish Dressage Championships
Pettersson, Bergakra Berglund, Gyllensward, Mathisen Win 2017 Swedish Dressage Championships
Isaksson, Soderstrom, Tovek, Mattsson, Kittel Win 2016 Swedish Dressage Championships
Ivarsson, Mattsson, Kittel Win 2015 Swedish Dressage Championships
Patrik Kittel Wins the 2014 Swedish Dressage Championships
Patrik Kittel Wins the 2013 Swedish Dressage Championships
Eva Ulf Wins 2012 Swedish Grand Prix Championships
Tinne Vilhelmson Wins 2011 Swedish Grand Prix Championships
Tinne Vilhelmson Wins 2009 Swedish Grand Prix Title with Favourit
Tinne Vilhelmson Captures Second Grand Prix Title at 2004 Swedish Championships
Marina Mattsson Wins 2014 Swedish Young Riders Championships