Great Britain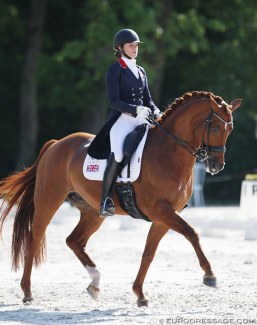 David Trott, Leanne Wall and Nikki Herbert, The British Dressage Children, Junior and Young Riders' selectors,  have released a short list of combinations for a place on the British Team at the 2018 European Junior/Young Riders Championships in Fontainebleau, France on 9 – 15 July 2018.
Great Britain plans on fielding individual riders in the children and junior divisions and a full team of four young riders to Fontainebleau. The short listed riders are likely to be selected, but others may be considered for selection if they reach the requirements set out in the Selection Policy.
The definite riders will be announced on Monday 18 June.
The Pre-European Team Camp will be held on Thursday 5 and Friday 6 July. This camp is compulsory for all selected riders/horses and reserves.
The short listed riders are:
Children 
Lily Payne (14) with Ann Savage's Beckhouse Cancara (black mare, 12yrs, 14.3hh).
Juniors
Jessica McConkey (16) with her own Lady Gaga II (dark bay mare, 9yrs, 16.2hh, s. Quaterback ds. Solos Landwind).
Maddy Whelan (15) with Sandy Phillips' Diamond Design (dark brown stallion, 13yrs, 16.1hh, s. Diamond Hit)
Young Riders
Lucy Amy (20)  with her own Extra Time (dark brown gelding, 9yrs, 17hh). 
Amber Barton (21) with her own Labiat (chestnut stallion, 14yrs, 16.2hh, s. Le Primeur ds. Werther).
Rebecca Bell (18)  with Caroline Bell's Nibeley Union Hit (dark bay mare, 11yrs, 16.1hh, s. Nibeley Union Jack).
Lewis Carrier (21) with Diego V (dark bay gelding, 10yrs, 16.2hh, s. Spielberg)
Angus Corrie-Deane (18)  with his own Tiny Tempur (bay gelding, 13yrs, 17.1hh, s. Raikano
Dylan Deutrom (20) ith Matt Hicks' Zorro (bay gelding, 14yrs, 16.2hh, s. Amsterdam).
Charlotte Dicker (19)with her own Sabatini (dark brown mare, 13yrs, 16.2hh, s. Stedinger ds. Sherlock Holmes).
Jade Ellery (19) with her own Eloy (chestnut gelding, 15yrs, 16.2hh, s. Earl ds. Wendenburg).
Alexander Harrison (21) with his own Diamond Hill (chestnut gelding, 7yrs, 15.2hh, s. Don Diamond).
Alexandra Hellings (18)  with Sonia Baines' Uvender V (bay gelsing, 17yrs, 16hh, s. Krack C ds. Juventus).
Anna Jesty (19) with her own Aquiro (bay gelding, 15yrs, 17.1hh, s. Aquino, ds. Donnerschlag)
Photo © Astrid Appels
Related Links
Lamprechtshausen, Kaposvar, Fontainebleau to Host 2017-2018 European Championships
German Teams for 2018 CDIO-PJYR Hagen Announced
Swiss Dressage Squads for 2018 Named
German Long List for 2018 European Children Championships' Team Selection
Schelstraete, Buijs, Pap, Donkers, Nieuwenhuis In the Picture at 2018 Dutch ECH Observation Trial