Germany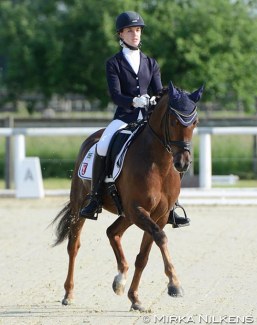 The German Equestrian Federation has announced the teams that will represent Germany at the 2018 CDIO-PJYR "Future Champions" competition in Hagen, Germany, on 14 - 17 June 2018. 
The CDIO-PJYR Hagen is an important selection trial for German team nomination for the 2018 European Pony, Junior and Young Rider Championships in Fontainebleau, France, on 11 - 15 July 2018. 
German selectors picked the following teams based on the riders' performances at the Preis der Besten last weekend. The riders selected on the CDIO teams are also the top candidates for the European Championships
Selected for Hagen are:
Pony Team - CDIO
Julia Barbian -  Der kleine König
Lucie-Anouk Baumgürtel - Massimilliano 
Moritz Treffinger - Top Queen H.
Pony Team - CDI
Lucie-Anouk Baumgürtel - Coriander
Shona Benner - Der kleine Sunnyboy
Antonia Busch-Kuffner-  Daily Pleasure
Lea-Marie Golkowski - Die feine Chanel
Jana Lang -  Cyrill
Nele Löbbert - Clooney
Anna Middelberg - Drink Pink
Laura-Franziska Riegel - Cinderella M
Children Team - CDIO
Isabelle Dülffer -  Ben Kingsley
Alina Hahn  - Riana
Lisa Steisslinger - Havanna Negra
Children Team - CDI
 Anabel Huther- Fürst Fidell
Tanja Kiesewetter - His little son
Kenya Schwierking - Dinos Boy
Jona Bomberg - Sinatra M
Lina Krüger - Desmond Tutu
Linn Bretfeld - Hajanika
Hanna Schmidt - Solaia
Marie Holtfreter - Desert Inn
Philippa Hodes -  Barolo M
Junior Riders Team - CDIO
Romy Allard - Summer Rose
Linda Erbe -  Fierro
Valentina Pistner - Flamboyant OLD
Junior Riders Team - CDI
Helen Erbe - Dolce Vita
Luna Laabs - Wild Willy Granly
Liselott Marie Linsenhoff - Danönchen OLD
Sophie Reef - Rue Noblesse
Sophia Ritzinger- Romano
Henriette Schmidt - Rocky's Sunshine
Johanna Sieverding - Lady Danza
Marlene Sieverding - Fürst Levantino
Young Riders Team - CDIO
Semmieke Rothenberger  - Dissertation
Lia Welschof - Don Windsor OLD
Alexa Westendarp - Four Seasons
Young Riders Team - CDI
Lisa Breimann - Aida Luna
Cosima von Fircks - Diabolo
Paulina Holzknecht - Wells Fargo
Ann-Sophie Lückert -  Fairmont
Semmieke Rothenberger - Geisha
Franziska Schwiebert -  Hogholm's Facel Vega
Lia Welschof - Linus K
Alexa Westendarp - Der Prinz
Photo © Mirka Nilkens
Related Links
Baumgurtel, Schwierking, Erbe, Rothenberger Win 2018 Preis der Besten
Riders Nominated for 2018 Preis der Besten Qualifiers