2018 European Junior/Young Riders Championships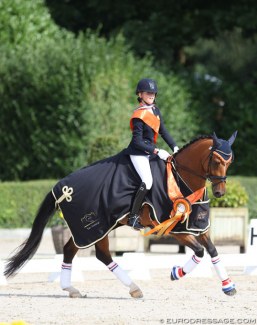 Pony rider Micky Schelstraete, children's rider Sanne Buijs, junior rider Kimberly Pap, young rider Esmee Donkers and Under 25 rider Jeanine Nieuwenhuis rode themselves in the picture at the Dutch team observation event held in Delft, The Netherlands, on 31 May 2018. 
Originally the Dutch youth riders needed to present themselves for observation at the 2018 CDI Roosendaal next weekend, but as the show has been cancelled, the Dutch Equestrian Federation decided to make the national show in Delft an observation trial for team selection for this summer's European Championships for Pony, Children, Junior, Young Riders and Under 25 riders. 
So for the Dutch kids, it was all present in Delft in order to be considered for the team. Their internationally achieved scores at CDI's this year will also be taken into consideration. A
In the pony division twenty-two combinations appeared at the starting line. After not passing the vet check at the 2018 CDIO Compiegne two weeks ago, Micky Schelstraete's Elin's Noncisdador (by Nostradamus) topped the board at home with 73.29%. Shanna Baars and routinier Don Camillo du Bois (by Dornik B) were second with 721.86%, followed by Fleur Prinsen on Next Black Magic (by Nabucco R) with 71.48% and Kiki Romney on Reedborder Amazing (by Bodo) with 70.48%.
Ten children's pairs are vying for a team spot and the 2017 European Children's Champion Sanne Buijs on Happy Feet (by Tuschinski) led the way with 74.23%. She edged out Sanne van der Pols on Excellentie (by Don Schufro), who scored 74.17%, while Lara van Nek on Fariska (by Vivaldi) was third with 73.91%. Lilli van den Hoogen and Woodstock captured fourth place with 71.92%.
In the junior division Kimberly Pap and Victory (by Jazz) bested the field with 72.53% ahead of Milou Dees on Francesco (by Florencio). She was second with 71.16 and referred Thalia Rocks on Gerda Nova de la Fazenda (by Romanov) to third place with 70.81%. Annelotte Felix and Amos (by Flemmingh) was fourth with 69.85%.
At Young Riders level Esmee Donkers and her second horse Zaffier (by Painted Black) captured the trophy with 72.25%, but she had Thalia Rockx on the home bred Verdi de la Fazenda (by Floret As) right on her heels with 72.21%. Diana van de Bovenhamp and Evita Ronia (by Westpoint) was third with 71.96% and Lisanne Zoutendijk took fourth place aboard Chris von Martels' Zilverstar (by Rousseau) with 71.76%.
Nine pairs competed in the Under 25 class and Jeanine Nieuwenhuis was the measure of all. She won the Short Grand Prix with TC Athene (by United) with 70.21% and placed second on Charming Lady (by Painted Black) with 69.83%. Jill Huybregts captured third place on Zamacho Z (by Rousseau) with 69.10% and fourth place with Enzos Armani (by Tuschinski) with 68.72%.
Complete results here.
Photo © Astrid Appels
Related Links
2018 CDI Roosendaal Cancelled
Schelstraete Wins 2018 Dutch Indoor Pony Championships
Pap, Donkers, Cornelissen, Nieuwenhuis, Van Silfhout Win 2018 Dutch Indoor Championships