U.S.A.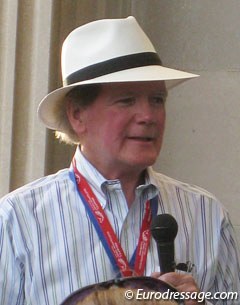 Irish born and U.S. based Dr. Pearse Lyons, best known as the founder of Alltech which sponsored three international equestrian championships, has passed away on 8 March 2018. He was 73 years old. 
In the late 1970s, Lyons immigrated to the United States. His agricultural company Alltech grew out of his vision to sustain the planet and all things living in it by applying his yeast fermentation expertise to agricultural challenges. 
Alltech focuses on improving animal, crop and human health and performance through its innovative use of yeast fermentation, enzyme technology, algae and nutrigenomics.
Dr. Lyons also had a keen interest in brewing and purchased the Lexington Brewing Company to resurrect the brewing and distilling tradition of Lexington that dates back to 1794. The first beer the Alltech Lexington Brewing & Distilling Co., produced was Kentucky Ale, and Kentucky Bourbon Barrel Ale, which came to be by placing Kentucky Ale  into freshly emptied bourbon barrels from nearby distilleries to soak up the fresh bourbon and oak flavors.
Dr. Lyons spearheaded Alltech's commitment to international equestrian sport by sponsoring the 2009 European Dressage Championships and then the 2010 Alltech FEI World Equestrian Games in Lexington, Kentucky, which led to his receipt of the Commonwealth of Kentucky's first-ever Legacy Award in 2011. He also sponsored the 2014 World Equestrian Games in Caen, France.
Related Links
Alltech Signs for Title Sponsorship of 2014 World Equestrian Games
Alltech Founder Claims $100M in Business as Result of WEG
2010 World Equestrian Games End with Financial Loss
Alltech Recognizes First Alltech A-Plus Award Recipients
Going West: the Road to Kentucky
Alltech Title Sponsor of the 2009 European Dressage Championships