American Dressage News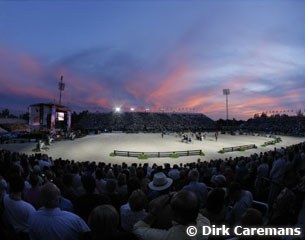 The 2010 World Equestrian Games in Lexington has ended with a financial loss despite last-minute help from sponsor Pearse Lyons (Alltech) and FEI's president Princess Haya.
According to its 2010 tax return, the non-profit World Games 2010 Foundation closed the year $1,386,625 in the red after receiving almost
$70 million in revenue, including more than $36 million in 2010 alone.
Because the Games were put on by a private foundation, tax returns are the only financial information required to be made public. Individual contributions do not have to be disclosed.
Lyons has said that Alltech spent upwards of $32 million to "activate" its original sponsorship. Alltech subsequently signed on to sponsor the 2014 World Equestrian Games in Normandy, France.
To this date, the 2006 WEG in Aachen remain to be the only major profit making World Championships so far.  The 1994 World Equestrian Games in The Hague bankrupted the organisation.
Read the Full Story on Kentucky.com
Photo © Dirk Caremans
Related Link
Eurodressage On the Scene at the 2010 World Equestrian Games