2018 USPRE Week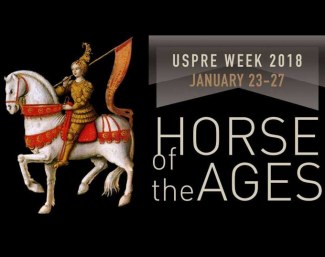 The 2018 USPRE Week itinerary is chock-full of exciting events featuring Robert Dover, Lendon Gray, Andreas Helgstrand, Mikala Munter, and Sue Jacoma. There is also a Special Appearance by the knights of Medieval Times.
The annual celebration of the PRE horse will be held January 23-26, 2018 in Wellington, Florida and includes an exciting and full calendar of events.
The week begins with the Members Welcome Reception at the White Horse Tavern on Tuesday, January 23, starting at 6pm. Start the week by reconnecting with the fun and friendly USPRE community.
During the morning on Wednesday, learn about new Revision Guidelines and plans for a TRC Qualified Tribunal of Breeding Stock in 2018, with USPRE Board Member Bill Taylor, Professional Handler Tom Reed, USPRE Executive Director Tanya Duffey, and special guests Amador Alonso Rioperez of the Yeguada Amadores and Dr. Felix Reigio Vales, Veterinary Director al Reprofam&SPA— at nearby Horses and Hounds Farm. In the afternoon, drop into the USPRE Office for a visit and any LG or service needs.
On Wednesday evening, come early to join USPRE and fellow members in a special Members Only section in the Global Pavilion for the annual blockbuster USPRE Party and Show. Traditionally one of the largest parties in Wellington, over 800 people come out to see our horses and share a Spanish meal. This year's theme is Horse for the Ages, and we have special acts planned that feature the role of the Spanish Horse in History.
Thursday is left open for you to enjoy Grand Prix competition at the Adequan Global Dressage Festival. Watch the world-class Dressage competition from the comfort of the USPRE Hospitality Event Tent, ringside at the Adequan Global Dressage Festival. 
On Thursday evening, the annual Member Dinner will be held at the International Polo Club. We'll announce our Annual Awards, enjoy a lovely dinner and cocktails fireside at this beautiful venue. Tickets for the Member Dinner are $100/per person. You can now make reservations online.
Friday features a day at Hampton Green Farm, beginning at 11am with a lecture from Equine Physiotherapist and Osteopath Antonio Gonzalez Valenzuela. Antonio has been part of the veterinary group to oversee the fitness and health of Spanish Team Horses Fuego, Norte and Grandioso, and has put his hands on the top PRE athletes of the world. He will be at Hampton Green to give a Seminar that he has formerly presented at SICAB, with the assistance of Spanish Team rider Guillermo Garcia Ayala (rider of Poeta Susaeta). Following their demonstration, there will be a light lunch offered free of charge at HGF, followed by the BREEDERS ROUND TABLE discussion. Plan to come for a very informative discussion on the issues and trends facing today's PRE breeders, including a vital update and explanation of the announcement by ANCCE regarding the World Championship of Young Horses.
Friday Night Under the Lights, the Grand Prix Freestyle, begins at 7pm at the Adequan Global Dressage Festival. USPRE Members can enjoy this magical evening at the USPRE Hospitality Tent ringside. Hosted by USPRE, this year we are presenting a very special MASTERCLASS with Andreas Helgstrand, who will be schooling two Grand Prix Level PREs during the break at the midpoint of the show. You will not want to miss this experience which concludes our week of USPRE festivities!
Plan now to come and celebrate our horse with all of Wellington and many of your friends from around the country. Fly in to Fort Lauderdale (FLL) or West Palm Beach (PBI) airports and stay in one of our many local hotels, listed below.
Enjoy our warm south Florida weather, meet Spanish officials, dressage celebrities and fellow members, and, in between our planned events, visit some beautiful local communities, take a dip in the ocean, visit historic Palm Beach, stroll on Worth Avenue, or shop till you drop for all things Equestrian at the Winter Equestrian Festival jumping show. 
For more information, please feel free to call the office. See you soon in Wellington!
For more information, visit www.usprea.com
Related Links
2018 USPRE Week Scheduled for 23 - 27 January 2018
A Magical Week for PRE Lovers During 2017 USPRE Week in Wellington
2016 USPRE Week Celebrates the PRE Horse with Party and Educational Week in Wellington
2015 USPRE Week, The Best One Yet!
2014 USPRE Night Leaves a Lasting Impression
USPRE Week at the 2014 Global Dressage Festival