USPRE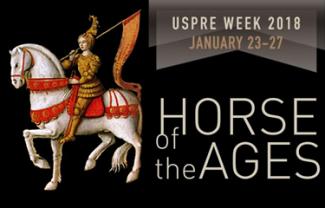 The US PRE Association has announced that the 2018 USPRE Week will be held on 23 - 27 January 2018 in Wellington, Florida. USPRE will celebrate the PRE horse in history, showing the majesty and beauty of the horse through the ages.
The annual USPRE Week 2018 will be held again next year in Wellington, Florida at the Adequan Global Dressage Festival show grounds. This year's theme is focused on the historical legacy of the PRE horse and like all other years, USPRE will host member events, dinners, meetings, seminars, and the highlight of the week: the Wednesday evening USPRE Party which brings out over 800 for a Spanish dinner and exhibition performances.
Don't miss next year's USPRE week, always better than ever!
The Week's Agenda includes:
Tuesday 23 January 2018
Member Welcome at the White Horse at 6:00 pm
Wednesday 24 January 2018
The BIG Party at the Global Showgrounds starting at 6:00 pm
Thursday 25 January 2018
Member Dinner at the International Polo Club at 6:30 pm
To join us for this popular evening dinner you will need to be a member in good standing and to pay for your dinner in advance. To RSVP for the Member Dinner, please go to this link.
Friday 26 January 2018
Friday Night Freestyles beginning around 6:30. USPRE members will watch the Freestyles from our VIP tent at the edge of the arena.
Join us for seminars and clinics. The Breeders Committee will meet during the week -- time and place still to be determined.
Don't miss this exceptional week in Wellington, Florida. Special Guests are ANCCE Representatives, Spanish Team Riders, US and Spanish breeders, Equine Sports Medicine Professionals, Trainers, and more.
Lots more details will follow so watch your emails for Newsletters about USPRE Week!
See you in Wellington in January 2018!
Related Links
A Magical Week for PRE Lovers During 2017 USPRE Week in Wellington
2016 USPRE Week Celebrates the PRE Horse with Party and Educational Week in Wellington
2015 USPRE Week, The Best One Yet!
2014 USPRE Night Leaves a Lasting Impression
USPRE Week at the 2014 Global Dressage Festival