Austrian Warmblood Breeding News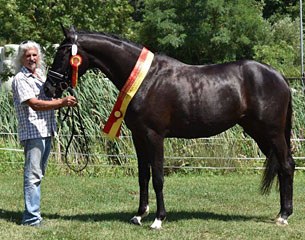 The 3-year old mare Corazon was named the champion of the 2017 Austrian Warmblood Elite Mare Show held during the national young horse championships in Stadl Paura, Austria, on 29 September - 1 October 2017.
The show jumping bred Corazon (by Lord Perry) bested a field of 3-year old dressage and show jumping bred young fillies. Bred and owned by Christian Maritschnigg, Corazon scored a winning total of 8.2 points. 
Alfred Leser's dressage bred Wansara (by Bailamos Biolley x Weltenau) became the reserve champion with an 8.1 score. Benedikt Rainer saw her mare Finesse (by Fiderbach x French Kiss) finish third on a score of 8.0 points. 
In the 4-year old division Christine Seidl's dressage bred Latina (by Lord Leopold x Diogenes) aced the class and grabbed the national title on an 8.5 score. Franz Hopfgartner's Saliera (by Uthopia x Hibiskus x Athlet) became the reserve champion with an 8.2 score, while Franz Karl and Maria Gutschy's Skylight G (by Destano x Rubin Royal x Fresko) landed third place with 8.1. 
Related Links
Fraulein Smilla Named Champion of the 2016 Austrian Warmblood Elite Mare Show 
Wonderfull Named Champion of the 2015 Austrian Warmblood Elite Mare Show