Oldenburg Breeding News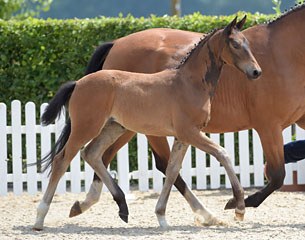 Offspring by Frascino convinced the judges' panel at the 2017 Oldenburg Foal Inspection held at the Dressage Performance Centre in Lodbergen on 22 June 2017.  Shortly after the 7th Lodbergen Foal Championship, the DLZ hosted the Oldenburg foal inspection, where over 50 upcoming stars gathered for a perfectly organized day.
The Oldenburg foal inspection committee particularly favoured three foals, sired by DLZ stallions, and accepted them for the 16th Oldenburg Elite Auction in Vechta. They are a colt by For Dance x Foundation (breeder: Susanne Bartjen, Saterland), the filly Escalove (by For Romance x San Amour (breeder: Heinrich Fugel, Saterland) and a filly by Frascino x Rubin Royal OLD (breeder: Dieter Schmidt, Hude). Because of their late birthdays, a colt by Rock for Me x Serano Gold (breeder: Christina Meier, Edewecht) as well as a colt by For Final x Compliment (breeder: DLZ) have been tentatively accepted for the auction. 
Seven foals receiced the predicate "Elite Foal"; amongst them three from Frascino's first of foals, including the Frascino x Rubin Royal filly. This dark bay young lady, who is accepted for the elite auction, was also the winner of the Frascino offspring inspection. The second place went to a colt by Franscino x Royal Diamond, bred by Kotschofsky. The third place went to a filly by Frascino x Hochadel, bred by Talea and Axel Röver.
"Good types and especially the correct conformation of these foals, stand out," said Oldenburg inspector Dr. André Hahn about the Frascino offspring. "They have very good joints and a harmonious topline and body." The Franscino foals convinced with their gaits, and particularly stood out was the very good, cadenced and ground covering walk which was through the body. "Very loose, very secure in the rhythm with a good working hindleg, always moving towards the point of gravity," Hahn commented.
Urs Schweizer, managing director of the DLZ, was very happy at the end of the day. "We had the 7th Lodbergen Foal Championship and Oldenburg Foal Inspection right after each other and they were both very well attended events where the quality was high. We are particularly happy about the excellent presntation of the offspring of our stallions."
Of the six presented foals by Rock For Me, three of them were decorated with the "Elite Foal" title.
For more information about the Lodbergen stallion roster, visit www.dressurleistungszentrum.de
Photo © Tanja Becker
Related Links
For Romance I OLD Offspring Set the Standard at 7th Lodbergen Foal Championship
Packed, High Quality Field at 2017 Oldenburg Foal Inspection in Lodbergen
The 2017 Foal Season Starts at the Dressage Performance Centre in Lodbergen
Full House and Great Atmosphere at 2017 Lodbergen Spring Breeders' Meeting