Oldenburg Breeding News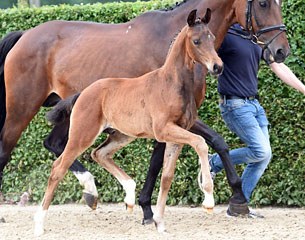 Offspring by For Romance I OLD set the standard at the 7th Lodbergen Foal Championship hosted at the Dressage Performance Centre (DLZ) in Lodbergen, Germany, on 17 June 2017. Twenty times the judging panel awarded the dream score of 10 at this foal show, which also served as a qualifier for the 2017 German Foal Championship.
One of the foals that was awarded a 10 was the Colt Champion: a gorgeous dark bay colt by For Romance I, bred by Sietse Betten from Warendburg. The judging panel, consisting of Antonius Schulze Averdiek, Paul Baune and Wolfgang Egbers, praised the colt for its extravagant movements and his meaningful general impression. They called him "outstanding" and the talent scouts from the Oldenburg breed society immediately selected him for the 2017 Oldenburg Elite Foal Auction in Vechta in August. The champion scored 9.72 and led a field of 30 colts.
The Filly Champion moved equally well and scored a 10 for her gaits. She is a daughter by For Romance I out of Deborah (by Depardieu x Wesley), bred by Alfred Melchers from Baden Wurttemberg. 
Pretty much all podium places in the filly and colt category went to offspring by stallions from the DLZ Lodbergen. The silver in the colt division went to Sandra Stolpe's For Romance I x Furstenball), while Ulrich Brinkhus' For Romance I x Bretton Woods and Heinz Bornhorst's Frascino colt tied for bronze.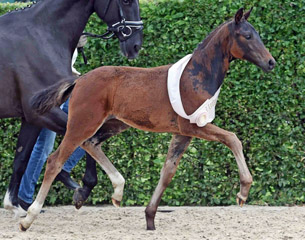 Forty-eight fillies were presented in Lodbergern and the silver medal went to a daughter by For Romance I OLD x Totilas bred by Bernhard Schwertmann from Damma. The bronze went to three fillies with the same score: a filly by Royal Doruto OLD x Florencio, bred by the Swiss brood farm Kabayo (Barbara and Urs Schweizer), a filly by Rubin Royal OLD bred by Emmy de Jeu and a filly by Blue Hors St. Schufro, bred by Mireille Segatz-Bunte from Lembruch.
In the pony foal division a colt by Future Dream, bred by Lena Katharina Slonka, dominated the class. All these foals have been accepted for the 2017 German Foal Championships in Lienen mid July. 
"Already last year our Championships turned into a foal festival of exceptional quality. This year it was even better, something we could hardly believe," said the ecstatic DLZ managing director Urs Schweizer. He attributed the high quality field to the clever pairing  of good stallions to strong mares.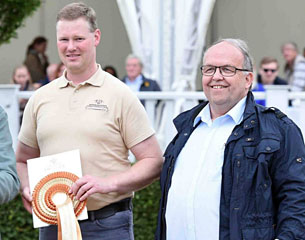 The organisation of this mammoth size Foal Championship by the DLZ team, breeding advisor Hanke Ostermann, and stallion station director Lars Schoon resulting in massive interest from buyers. During the Championship numerous foals switched owners. "That's the way it should be and that attracts more breeders," said Schweizer. "They are not afraid to cover the distance with their foals to show them here and market them well."
The Lodbergen Foal Summer continues on Thursday 22 June with an Oldenburg premium foal inpection and in particular the official offspring inspection of Frascino. You can follow this live on www.ClipMyHprse.de. In the CMH archive you can see all footage of the 7th Lodbergen Foal Championship. 
To explore the Lodbergen Stallion Collection, visit www.dressurleistungszentrum.de
Photos © Tanja Becker
Related Links
More Than 100 Entries for 2017 Lodbergen Foal Championship
Packed, High Quality Field at 2017 Oldenburg Foal Inspection in Lodbergen
The 2017 Foal Season Starts at the Dressage Performance Centre in Lodbergen
Full House and Great Atmosphere at 2017 Lodbergen Spring Breeders' Meeting
Champions by Dante Weltino OLD and For Romance at 2016 Lodbergen Foal Championship