Australian Dressage News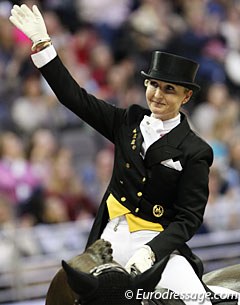 Australian Olympian Kristy Oatley has ended her collaboration with Dutch trainer Sjef Janssen and has been resorting to former Gronwohldhof coach Reinhard Nielsen as periodic support. Oatley considered the commute from Hamburg to Holland too strenuous for her professional and family life.
Oatley began training with Sjef Janssen about five years ago and their coach-student partnership ended in August 2016.
Kristy is based in Hamburg, Germany, and regularly commuted to Erp, The Netherlands, for training. She is married to former soccer player Piotr Staczek, who is now a professional kickboxer. They have been married for 12 years and have three children: Oskar (11), Rose (9), and Ben (7).
"Rio was the last show," Oatley told Eurodressage, adding that it was "too much traveling back and forth, leaving the kids and family. The other horses were then at home. Rosie has a new pony, she needs me too."
Oatley's daughter Rose has taken a keen interest in dressage and is now riding the 7-year old Rhinelander pony Daddy Moon (by FS Daddy Cool x Capri Moon).
Oatley is competing three Grand Prix horses. Her number one is Du Soleil (by De Niro x Caprimond, which she showed at the 2017 World Cup Finals in Omaha two weeks ago, as well as the 17-year old Oldenburg stallion Ronan (by Riccione) and the 13-year old Oldenburg bred Swagman (by Sandro Hit x Don Schufro). She also has the 7-year old Hanoverian mare Finisterre (by Florencio x A Jungle Prince), which was bred by American Grand Prix rider Catherine Haddad and previously competed by Stefanie Hilger.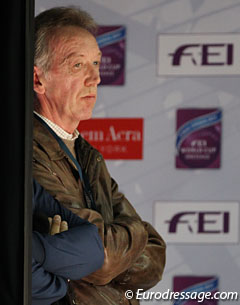 At the 2017 World Cup Finals in Omaha, Kristy brought along German trainer Reinhard Nielsen as her eyes on the ground. The Australian did not want to define the current trainer's status of Nielsen, whether they have set up a long-time working relation or whether this was just a one-time thing.
"He was great on the ground, a lovely support, said Kristy.
Nielsen has worked at Karin and Herbert Rehbein's Gronwohldwof as an assistant trainer in the 1990s. Kristy was trained by the Rehbeins for almost two decades from the 1990s through the 2000s. However, Nielsen and his partner Alexandra Bimschas set up their own business, first at Klövensteen, then at Anakenenhof and now at Schäferhof, all in the Hamburg area.
Photos © Astrid Appels
Related Links
Kristy Oatley and Du Soleil On the Road to Omaha
Du Soleil Sold to Kristy Oatley as Rio Hopeful
Patrik Kittel and Sjef Janssen Part Ways
Janssen and Cornelissen Go Their Separate Ways