2017 World Cup Finals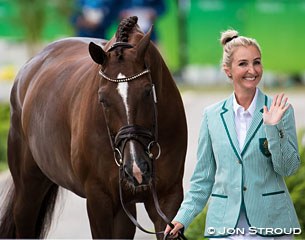 Kristy Oatley is a household name in Australian Equestrian circles and she is proud to be her country's sole representative at the upcoming 2017 World Cup Dressage Final in Omaha, Nebraska, USA. While normally Australians qualify via the Pacific League World Cup Final, the German based Oatley declared for the Western European League. She garnered more than sufficient points to join the European delegation to Omaha.
"I am completely over the moon, I never thought I would qualify through the Western European League and after competing with the world's best all winter I managed to qualify fourth. It's a dream come true," Oatley said.
Despite being based in Hamburg for many years Oatley has lost none of her sunny Australian attitude and attributes the success she has enjoyed this season to her horse Du Soleil, a 13-year old Hanoverian gelding by De Niro x Caprimond.
"It's all thanks to having a good horse. It's a fairly new partnership and every time we compete we learn something new and find something out about each other. He is an extremely honest horse who is always trying his best,  sometimes a little too much. He is very enthusiastic and constantly looking for reassurance also. Even though he has the confidence he is often asking me if he is doing things right. I have to have a lot of trust in him because he is very powerful and energetic and we really have to try and completely trust each other in a test."
Oatley described her love for the horse that has become an all-time favourite.
"His presence and the way he fills up the arena is a bit like when a good looking guy walks into the room. I think, to put it in a nutshell, he is extremely like one of the first horses that I had in Germany called Oskar who I named my son after. He's not as big as all the other horses that I have had. He's more like a pocket rocket that you can control a little bit better. That's the advantage of having a smaller horse. All my other horses have been absolutely huge."
Du Soleil has competed at Grand Prix level for 1 ½ years and faced his biggest test so far at the 2016 Olympic Games in Rio de Janeiro, Brazil. For 2017 the next challenge will be the 2017 World Cup Dressage Finals that begin on March 29.  Oatley says she is looking forward to the task but remains realistic.
"We have been training every day and getting there in one piece is the main focus now," said Kristy. 'I think we are much more confident after having such a successful season behind us. It gives you extra motivation. He's always on the ball. It's performance on the day and they are animals. Anything can happen. If it does work out well that's great and if it doesn't then that's the way it is."
Whatever happens in Omaha, Oatley is just happy to have made it that far. Being there is enough and the experience will provide the pair with vital experience for future major competitions around the world.
Source: Equestrian Australia, edited by Eurodressage - Photo © Jon Stroud
Related Links
Photo Report: Kristy Oatley Bags World Cup Victory at 2016 CDI-W Zakrzow
Steffen Peters' Extra Starting Place Confirmed for 2017 World Cup Finals
Kristy Oatley Leads Australian Campaign on the Road to Rio