Eurodressage Market - Products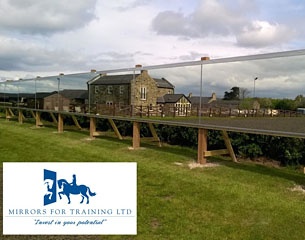 An arena mirror won't fit in a Christmas stocking or under the tree, but it is sure to delight that special rider in your life. It is a wonderful training aid, providing that useful feedback.  giving you the competitive edge, order now to enhance your training in 2017.
As a rider, your posture when riding is vital.  The ability to hold an upright and balanced rider posture at all times is critical for control and influence of the horse.  It also sums up the difference between being a rider and simply someone who is along for the ride.
Our Arena Mirrors are uniquely designed, Ready to Install they are backed and framed galvanised steel, making them strong and built to last– not to be mistaken by cheaper wooden backed alternatives that warp and distort your reflection. Each mirror is generously sized at 8ftx 4ft or 2440 x 1220 and built to last, our system is unique because it allows the mirrors to be reglazed as and when required, and supplied with easy fit brackets – we also offer a full installation service on timber or galvanised steel posts 
XMAS OFFER ONLY £275.00 + VAT* 
or 4no Arena Mirrors for £1000.00 + VAT*
Installation available throughout Europe
*Prices plus delivery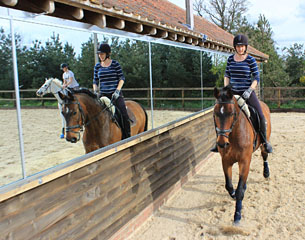 Any dressage rider will benefit from the addition of mirrors to their facility. Mirrors offer the ability to see the job you are doing and react on it immediately, without the intervention of a trainer or video. Your horse can feel the correction at the right time, because you are able to see it in real time. Your trainer can also explain what he or she wants from the movement and it will be clearer to you, because you can see it.
Through the use of mirrors you will practice good habits, such as proper angle in your half passes and shoulders ins, or proper seat and leg position. If you are a trainer, the help they give you in teaching flying changes, or making sure the piaffe and passage are even and straight is absolutely irreplaceable. The more time you spend riding correctly the easier it is to repeat in the show arena.
To find out more about Mirrors for Training, see www.mirrorsfortraining.co.uk or call +44 (0)1902 791207.
Related Links
Mirrors for Training Expands into Europe
Mirrors for Training: The Ultimate Training Aid 
Mirrors for Training: Arena Mirrors as The Ultimate Training Aid