Eurodressage Market - Products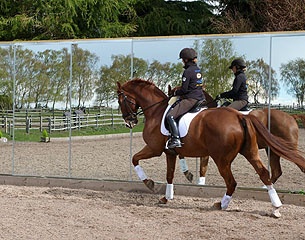 Stay ahead of the competition with "Mirrors for Training" arena mirrors. This British company is considered the first choice in supply and installation of mirrors and they ship world wide! Mirrors for Training arena mirrors are manufactured to the highest standard, used and highly recommended by  professionals -- such as Mary King, Mark Todd, Nikki Crusp, Pippa Funnell, Natascha Baker, Paul Tapner, Andrew Nicholson -- to stay ahead of the competition. To perfect your riding mirrors are an essential training aid!
Take advantage of the Special Offer for Arena Mirrors For £1000+ VAT
Any rider training with arena mirrors will tell you they cannot live without them as they become an essential part of their training, They allow you to pay close attention to detail and correct any problems immediately. Mirrors enable you to see much  more and put into practice good posture and positioning when schooling alone.

Dressage is much like any other sport. To be successful, you must dedicate yourself 100% to your training. - Mirrors help you achieve perfection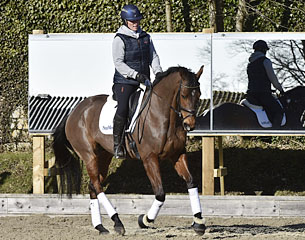 Using mirrors provides instant visual feedback, allowing corrections to be made at the time, enabling you to improve and get the most from each training session, whatever level you ride at your basic training becomes more secure and so more difficult movements are easier and the quality of movements are better.
With Mirrors for Training, the options are endless. Our arena mirrors are uniquely engineered and framed in galvanised steel, each 8ft x 4ft  reflects a generous view of your arena and a super clarity  reflection that cannot be matched by any other supplier as our system is unique to us.
Our system is strong, durable and offers a stylish addition to any arena and can be adapted to both outdoor and indoor, Vertical and Horizontal installation configurations. 
We offer two types of installations on galvanised steel posts or on tantalised timber both have back leg bracing and both are installed to a very high standard, and the mirrors are installed on a tilt mechanism that allows the mirrors to be adjusted to your individual requirements, the benefits of the galvanised system over the timber, are that the posts will last approx 3 times longer and as they are pre fabricated they are universal so that in time you would be able to upgrade your mirrors to vertical should you wish to do so in the future.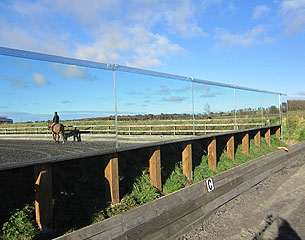 Our system is unique as the mirrors can also be upgraded, the backs of the mirrors are galvanised steel, the mirrors will obviously deteriorate in time however our system enables the mirrors to be easily reglazed  (re mirrored as the backs will also last years) in the future.
For more information, visit www.mirrorsfortraining.co.uk or contact + 44 1902 791207 or + 44 7737263611 or email today - info@mirrorsfortraining.co.uk